Charles Dickson: On Mr. Tinubu, the governors are liable too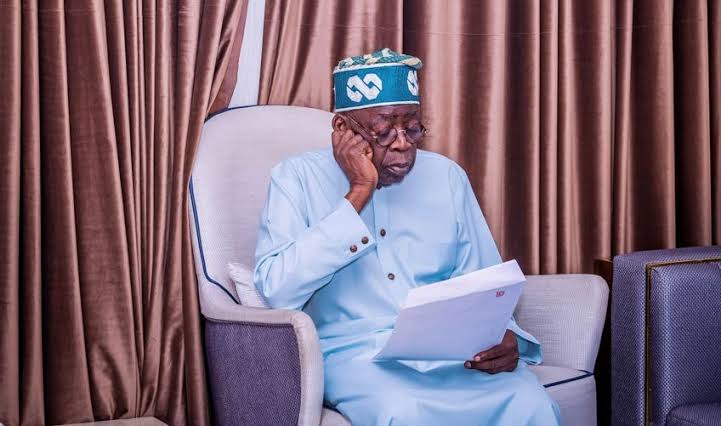 By Charles Dickson
Is life a freak accident, with no explanation, no reason, and no one to blame? Is it random?
Reminds me of an elderly couple, who were childless, but fond of their neighbor's daughter and used to take her to the beach every Sunday to have fun. December, 26th 2004. A tsunami occurred, it was the last they were seen of. The young girl was sick that Sunday and couldn't go. Was it her fortune or misfortune that she got ill that day?
One can only realize the outcome of a situation in the future. Is everything part of the design, are there coincidences and consequences?
The concluded polls, at various levels, have been contested the Supreme Court has put the Almighty presidential polls to rest. We will be dealt another dessert as there will also in some weeks some half a hand guber polls, namely Kogi, Imo, and Bayelsa states. Each poll presents another moment to take steps…, while I have refused to discuss the elections, not as an act of cowardice, but truly, who am I, to discuss, an election many thoughts were a function of "go and verify", and many others see as their "mandate" has further divided the nation or one that has realigned the nation.
Who am I, especially when I am not on a praise-singing mission like many want to do…
Who am I to discuss elections when in the next few weeks, 40,000 policemen will be deployed for a civil-related exercise?

However with each passing day, I know that I am compelled to make my opinion known, and it's not just my opinion but that of many Nigerians. And I make these comments so that someday in the future when I am asked what I say or do, these words would hold me liable. I will not sit on the fence and watch, I will talk, I will write and let my words stand for posterity.
Very quickly, let me say, with these elections, we may have made a comparative tangible responsive, and responsible movement in the democratic field, even though at great expense.
To Mr. Tinubu and the renewed hope agents—The questions are not far-fetched: will Mr. Tinubu, be far from being a 'yes man' and be far from the business-as-usual set of leaders that have plagued this nation?
To the Tinubu praise singers that have simply caught the messiah bug. I am surprised some people have not called him a 'god'. The expectations are high, and for a nation that has for decades lived below its potential we have a right to expect much but sadly we are again (saddled with our permission) a government that 'prays' seriously will not be largely a deceptive one.
With a wry smile, it is at this point that I make a detour and say but…this essay is not about Mr. Tinubu. This is about the governors, those men who collect billions in security votes, those men who always blame their predecessors even when they are succeeding themselves. The men that have all kinds of excuses…
How many of the 'new' governors have not just by their will but by powers granted them constitutionally, the guts to tread a new path–or are we still going to tow the known path? It is the only road we know for now…road contracts that will be abandoned, and commissioning of hospitals without facilities. Schools that would be neglected, strike within various sectors of the economy amongst many shortfalls and long falls that characterize the state level, with a couple of its fair share of 'elephant and hippo' projects.
There may be little Mr. Tinubu can do about the National Assembly and their outrageous million naira salaries for doing nothing, but hopefully, he can do more than negotiate more than 35,000 for another set called civil servants that do at least a 'small thing'.
However, a big question would be, does anyone think that there is one state that would do things differently, the answer is, that we need a re-think. We do not need a soothsayer to tell us that the best that we have now is a conglomeration of deceit…re-congregated elite in many states and at best many that have been out of power and are coming with vengeance to chop.
A cursory look at the first few statements, interviews, and campaign promises of the Tinubu-led APC, raises both hope and fear, but the reality is tough, very tough!
Already there is a call for time and patience, how much of it, we have; only time will tell, and while I have argued that a change in government, if free, fair, and credible does not mean that government should restart its engine. On the contrary, it calls for a re-fuelling and moving ahead. Our experience is that across many states, the government has had to start all over again and the same old music is remixed, and a few months after we notice the same old thread in action.
And fearfully, the same issues that the last administration sought to solve or made comics of, are the same ones we are facing again.
However, like Mr. Tinubu, many governors are blessed as Nigerians are so divided on the real issues by religion, ethnicity, nepotism, chopism, and other selfish modules.
Tinubu and his team must not just have the plan, the will; it simply must pay more than lip service to hope…not just like a laborer changes his shirt day by day without choice to the same work wear he is used in more than 60 long years.
At the state level governors must urgently and comprehensively address the job issue, and improve the business of government and governance. There must be workable plans that will translate to the provision of housing, water, and education for all Nigerian children to the Senior Secondary School grade at least.
With more billions spent, electricity domesticated to all levels, will governors use their state structures to make energy available, reliable, and affordable?
I beg to re-echo again that there is an honest search for understanding, education, organization, and action that raises the cost of state and casual violence for its perpetrators or that lays the basis for institutional change. There would be no answers; rather we would continually be plagued by the same questions and problems I highlighted in the paragraphs above.
Because while we want to blame the federal government and are quick to lay out how the bulk is at the president's table, we forget that the governors must effectively manage or halt social disruptions that threaten the mutual co-existence of a people or we will watch almost helplessly as human inequality increases, social justice decays and poverty increases.
Mr. Tinubu is not going to solve our problems, like Mr. Buhari before him, he will not disappoint failure. However if the administration can join the speed train age and stop the government from celebrating borehole water in communities that deserve more…then not only will I eat my words, but threaten governors to do even better.
Finally Mr. President and particularly your excellencies across some 30 states, you are not under obligation to read or listen to me. Besides you are not the root cause of why after 16 years of democracy, we are still a nation of potential and little in achievement. You cannot do anything about it…but certainly, you can do something…You cannot surprise many of us who do not believe in you. But you can shut us up by performing. May Nigeria Win!
---
Prince Charles Dickson PhD, is the Team Lead of the Tattaaunawa Roundtable Initiative (TRICentre).
Disclaimer
It is the policy of NewsWireNGR not to endorse or oppose any opinion expressed by a User or Content provided by a User, Contributor, or another independent party. Opinion pieces and contributions are the opinions of the writers only and do not represent the opinions of NewsWireNGR.