Soludo to distribute rice to 300,000 Anambra households before 2024, a post-subsidy palliatives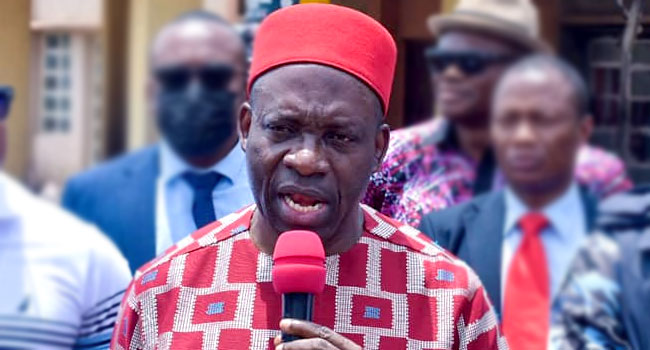 Governor Chukwuma Soludo of Anambra has announced an interim response strategy to cushion the impact of petroleum subsidy removal on the citizens.
Soludo said this in a state broadcast in Awka on Monday.
He said the fundamental re-setting of the macroeconomic framework which Nigeria was going through was long overdue but usually came with hardship.
He said Anambra was in support of the Federal Government agenda and would partner it to ensure that Anambra residents benefited maximally from federal programmes even though they belong to the All Progressives Grand Alliance (APGA).
"In the meantime and over the remaining four months of the year as well as within the context of our 2023 budget framework, we are rolling out a few immediate and medium-term measures.
"Anambra government will be distributing rice to over 300,000 households in the coming weeks across the 326 wards in Anambra.
"The following highly vulnerable persons are exempt from all forms of taxation/levies: hawkers; wheelbarrow and truck pushers; vulcanizers; artisans, okada drivers; petty traders with capital of less than ??100,000.
"The IGR payments of all transporters including keke, Minibus, etc are hereby reduced by 20% with effect from September 1.
"Basic Education from primary school to JSS3 remains tuition free for all public schools and we are reviewing the plethora of other levies, fees, and charges in these schools.
"Henceforth, we will provide free antenatal services and free delivery services to pregnant mothers in state primary health centres and general hospitals," he said.
Soludo called on landlords to show empathy to their tenants at this challenging moment and consider easier options for rent payment.
He said he had approved repair and renovation of all serviceable public servants staff buses currently under the office of the Head of Service to facilitate the movement of public servants.
He said his administration would embark on repair of existing and purchase of new water boats to ease transportation for our citizens in the riverine local governments.
"We will be applying to purchase many of the CNG-fueled buses to be provided by the Federal Government for intra-state transportation.
"We are getting ready to deal with the heavy flooding expected to massively affect eight local governments and have made arrangements for resettlements of those living in flood-prone areas.
"We are determined to provide every assistance to the farmers for the next planting season in 2024 to boost food and animal production," he said.
Soludo expressed the hope to collaborate with the Federal Government to ensure that Anambra residents benefited from Federal Government palliatives including conditional grant of ??50,000 to no fewer than 1,300 businesses in the 21 Local Government Areas of the state.
He said others include the ??500,000 to ??1 million and ??1 billion soft loans, all at 9% interest rate, as well as the ??100 billion CBN commercial agricultural loan.