Video and Reactions as Kano Governor, Kabir Yusuf demolish structures erected by Ganduje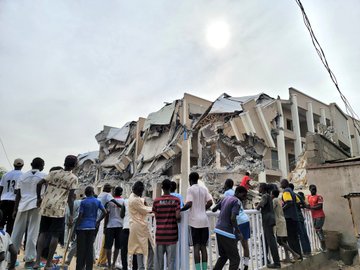 Governor Abba Kabir Yusuf of Kano State has started the demolition of some structures which he said were illegally erected on properties belonging to the state government.
Late on Friday night, a task force set up by the governor popularly known as Abba Gida-Gida, began the demolition of structures built inside the Kano Race Course (Filin Sukuwa).
The governor had in his inaugural speech on May 29th gave a marching order to security agencies in the state to immediately take over all public properties sold by the former Governor Umaru Ganduje's administration.
Governor Yusuf had said, "I am announcing, today, that all these public places and assets that were immorally plundered and sold by the Ganduje administration should be taken over by law enforcement agencies, led by the police, the DSS, Civil Defence, and Hisbah pending the final decision of government."
According to the Governor, some of the properties include "lands in and around schools, religious and cultural sites, hospitals and clinics, graveyards and green areas, and along the city wall of Kano, as well as other landed properties and assets belonging to Kano State within and outside the state to their cronies and agents."
He also announced that a Judicial Commission of Inquiry would be set in the coming days "to ensure that all perpetrators and those that aided and abetted them are brought to justice."
On Friday, Governor Yusuf during a visit to the Kano State Pilgrims Camp to see its condition, also directed "that all land developers at the Hajj Camp to stop immediately."
He said, "I'm appalled that the facility that was meant to serve as a home away from home for intending pilgrims from Kano State and beyond has been debased by the immediate past administration, with many plots of land there sold to their cronies."