United Nigeria Airlines aircraft carrying 50 passengers, skids off runway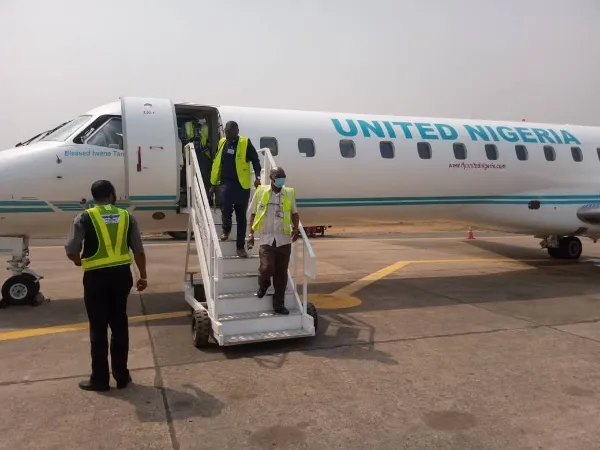 Tragedy was averted on Wednesday as an aircraft belonging to United Nigeria Airlines veered off of the 18 Left runway of the Murtala Mohammed Airport, Lagos.
Confirming the incident in a statement on Wednesday, the company's head of corporate communications, Achilleus-Chud Uchegbu, said no casualty was recorded.
He said the airline has informed the relevant authorities of the incident and is giving them maximum corporation to unravel the circumstances behind the glitch.
"The aircraft, 5N-BWW with 50 passengers on board, was flying in from the airport in Abakaliki, Ebonyi State, when the incident happened.
"The aircraft landed safely but was forced to terminate its movement to the apron off the runway. All passengers disembarked safely and were transported to the arrival hall alongside their luggage, the statement said.
"Officials of the Federal Airport Authority of Nigeria, FAAN, are at the scene of the incident and alongside UNA engineers are working to move the aircraft to the hanger.
"NCAA and AIB have also been duly notified and are on the scene. United Nigeria is collaborating fully with the authorities," he said.
He assured the public that the company would always maintain the strictest safety standards in its operation and prioritise passenger safety at all times.