Meet Ambassador Kunle Adeleke, State Chief of Protocol to President Tinubu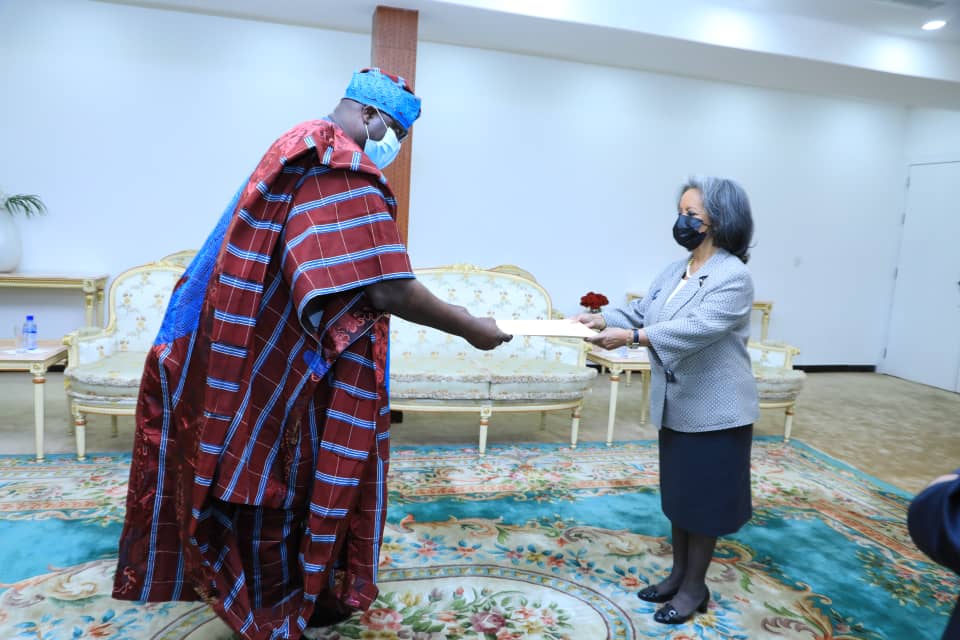 President Bola Tinubu has made his first set of appointments as Commander-in-Chief of the Armed Forces of the Federal Republic of Nigeria.
In the appointments, he named Ambassador Kunle Adeleke as the State Chief of Protocol (SCOP) to the President.
In this article, we are exploring the Illustrious Career and Life of Ambassador Kunle Adeleke.
Ambassador Kunle Adeleke is a distinguished diplomat and statesman who has made significant contributions to international relations and diplomacy. Throughout his career, he has served his home country, Nigeria, with dedication and integrity, leaving an indelible mark on the global stage.
Born and raised in Nigeria, Kunle Adeleke displayed early promise and a deep passion for public service. He embarked on his academic journey, earning a bachelor's degree in Political Science from a renowned university in Nigeria. Armed with a solid educational foundation, he later pursued further studies, obtaining a master's degree in International Relations from a prestigious institution abroad.
With his academic qualifications and unwavering commitment to public service, Ambassador Adeleke began his diplomatic career. He joined the Nigerian Foreign Service and quickly rose through the ranks, showcasing his exceptional diplomatic skills and astute understanding of international affairs. His talent for negotiation, coupled with his deep knowledge of global politics, positioned him as a valuable asset to his country.
Ambassador Adeleke's career spanned several continents, and he served in various capacities at Nigerian embassies and high commissions around the world. His diplomatic assignments included postings in North America, Europe, and Africa. At each diplomatic mission, he distinguished himself as a skilled diplomat, promoting Nigeria's interests, forging partnerships, and strengthening bilateral relations with host countries.
His expertise in multilateral diplomacy also shone through as he represented Nigeria in international organizations such as the United Nations (UN) and the African Union (AU). In these esteemed forums, Ambassador Adeleke skillfully advocated for Nigeria's positions on critical global issues, including peace and security, human rights, sustainable development, and regional integration. His strategic insights and diplomatic finesse garnered respect from his peers and colleagues.
Beyond his diplomatic assignments, Ambassador Adeleke demonstrated a deep commitment to nurturing the next generation of diplomats. He served as a mentor and advisor to young diplomats, sharing his knowledge and experiences to guide their careers. His dedication to the development of human capital in the diplomatic field has left an enduring impact, contributing to the growth of Nigeria's diplomatic corps.
Throughout his illustrious career, Ambassador Kunle Adeleke has been recognized for his outstanding contributions to diplomacy and international relations. His numerous awards and accolades reflect his diplomatic achievements and his commitment to representing Nigeria with honor and distinction.
In addition to his diplomatic accomplishments, Ambassador Adeleke is also known for his humility, integrity, and unwavering dedication to public service. His professionalism and diplomatic demeanor have earned him respect and admiration not only from his Nigerian compatriots but also from his international counterparts.
Today, even in his retirement from active diplomatic service, Ambassador Kunle Adeleke continues to make a positive impact. He engages in various initiatives aimed at promoting peace, stability, and development in Nigeria and beyond. His wisdom and experience are sought after by governments, think tanks, and institutions that value his unique insights into global affairs.
Ambassador Kunle Adeleke's remarkable career and contributions to diplomacy exemplify the highest standards of public service. His dedication to promoting Nigeria's interests, his commitment to international cooperation, and his diplomatic prowess have earned him a place of honor in the annals of Nigerian diplomacy. His life and career serve as an inspiration to aspiring diplomats, reminding them of the power of diplomacy to shape a better world.