Dele Sobowale: Baba, go straight to Niger, forget Daura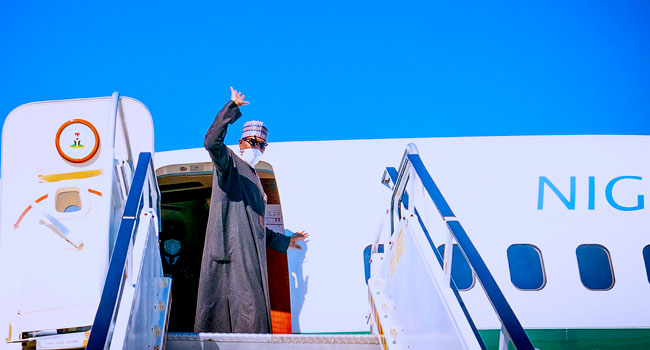 "The evils that men do live after them…"- William Shakespeare, 1564-1616, in JULIUS CAESAR
Outgoing President Buhari announced a few weeks ago that he might relocate to Niger Republic – if people disturb him too much in Daura. Since then, some commentators have assumed he was serious with the declaration; a few said he was only joking and his comments should not be taken too seriously. I take a different attitude.
Irrespective of whether he meant it seriously or as a light joke, I think he should fly straight to Republic of Niger – where a befitting Presidential Lodge is probably waiting for him. After eight years as President of Nigeria, during which he did Niger more good than Nigeria, he should, quite rightly, expect a warmer welcome there than Daura or any place else in Nigeria.
Daura is particularly dangerous. The Buhari, who left eight years ago, was a relatively poor and struggling ranch owner. He and his family lived behind low fences and felt perfectly secure within. His eight years in office, and the rapid deterioration of security in Nigeria in general and Katsina State in particular, have turned Daura into one of the most dangerous places one of the richest men in Nigeria today can hope to live in peace.
Just last week, bandits, driven from Zamfara State, reportedly were relocating to Katsina State which now ranks among the top four most dangerous states in Nigeria. The outgoing state Governor had raised alarm several times during his tenure about the situation in the state. He shares power with hoodlums.
If Buhari returns home, it will be without the battalion of soldiers and policemen guarding him now. Like Obasanjo and Jonathan, before him, he will become relatively vulnerable and attract the attention of the hoodlums – just as ants invade premises where sugar is loosely stored.
His movements would be severely restricted because the bandits also know where to find big money from making a raid. Reports from reliable sources living in nearby communities, but, who travel to Daura at least twice a week indicate that the walls surrounding the premises have been raised and CCTV cameras mounted at every angle. Unfortunately, those constitute the minimum requirement for the family's safety and absence of fear. Indeed, heightened security merely turns the Buhari family into prisoners in a palace. Moving out freely is the problem.
Given his age, Buhari might not want to venture out much. But, the same cannot be said of Mrs. Buhari – who had developed a taste for travelling abroad and staying for weeks – with total safety assured as the wife of a President wherever she went. That security blanket will be removed the minute the new President is sworn-in. Now vastly richer than in 2015, and the bandits know it, they present, individually and collectively, targets too big to ignore by criminal bounty hunters.
The Nigerian alternatives are Kaduna and Abuja. Even El-Rufai will not stay a day longer in Kaduna after handing over. So, forget that.
And peace also is the last thing he can expect if he decides to stay in Abuja. Several of his "illegal" activities, which have attracted litigation, as well as others, which will certainly be probed, dictate that he should stay far from where he can be "summoned" by SERAP.
As far as I am concerned, by collecting N22.7tn loan under Ways and Means, W&M, without recourse to the rubber stamp Senate, Buhari has committed an offence which cannot be excused by presidential immunity. The penalties attached to that breach of our laws must be applied to him after leaving office.
TURKEY VERSUS NIGERIA: THE DIFFERENCE IS CLEAR
"The first thing we do; let's kill all the lawyers."
William Shakespeare, 1564-1616
Historians call Mustafa Kemal Ataturk, 1881-1938, the Father of modern Turkey. It required an exceptional person to carve a strong nation out of warring factions. Giuseppe Garibaldi, 1807-1882, had earlier been proclaimed Father of Italy. Today, those two nations and their people are highly respected worldwide. We talk about "our founding fathers" in Nigeria; and depending on our inclinations or tribal sentiments, we name at least three or four. Too many cooks will always mess up the vegetable or egusi soup or edikanikon. Perhaps, having so many fathers is our problem – like the child whose paternity is hotly disputed.
Nothing illustrates this better than the recent elections in Turkey and Nigeria. The clear-headed framers of the Turkish constitution made it clear that nobody can become President unless he collects over fifty per cent of the votes cast. The incumbent President received 49.3 per cent of the votes and it is still not good enough – because, in a real democracy, majority of the voters must elect the President. Erdogan might still lose.
By contrast, those who drafted the Nigerian constitution, handed it to the military who imposed the nonsense on us, have left us with a situation in which even a mere 28 per cent might be enough to become the Nigerian President. In Nigeria, we are at daggers drawn over election; there will be no bloodshed in Turkey – irrespective of who eventually gets over 50 per cent of the votes. In Turkey, the real winner will be known immediately after the run-off. The real winner of the Nigerian election might not be known for more than a year. Meanwhile, the shadow of illegitimacy follows the Nigerian President everywhere he goes. Who wants to sign a long term bilateral agreement with a fellow who might not be there in two years?
Turkey's population is about 85 million; and there was no postponed census. Nigeria's population is unknown, but now estimated at 220 million. Given a choice, most Nigerians would japa to Turkey; the Turks wishing to relocate to Nigeria might not fill up a luxury bus. If I am asked what makes the difference, without hesitation, it would have to be order. A more orderly society would always be more productive and less stressful than a disorganised one. Turkish Airline is a leading one and generating tons of foreign exchange for the country. Nigeria Air can't even get off the ground on account of muddled thinking.
One must ask if the framers of our constitution, particularly professors of law, never heard of run-off elections to ensure that the President is elected by majority of voters. Why was that provision excluded from our laws? Let me state clearly that I strongly hold this position and will protest any election in which the wishes of the majority are set aside and a candidate with less than majority is proclaimed winner. It is inherently unjust. Bad politics, based on defective laws, drafted and imposed secretly, will invariably lead a country into economic trouble as a greater percentage of the public revenue is spent trying to solve the problems caused by bad politics.
SWIMMING IN BLOOD IN BUHARI'S NIGERIA
"The first duty of government is the security of lives and properties."
As Buhari prepares to go, hopefully to Niger Republic, in only two countries is the daily murder of innocent citizens, by lunatics, robbers, bandits and rampaging herdsmen no longer front page news – the United States of America and Buhari's Nigeria. Though, like John Donne, I believe that the needless death of every man, woman and child diminishes me, still the USA is not my country. I studied, worked and lived there for ten years and voluntarily returned to Nigeria. I don't wish to live there anymore for any amount of money.
Nigeria, with all her faults, is my country and the only one I owe total loyalty. However, as Buhari's tenure comes to a dreadful end, it is amazing how human life has become so totally worthless under this terrible leader. Maybe one day I will find the time to write a book documenting the full scale of the atrocities which have become standard fare in Nigeria today. The following selection from several in just two days should reveal to all of us how bestial Nigeria has become under Buhari.
•        700 deaths, 300 abductions recorded in April  *  Terrorists kill two in fresh Southern Kaduna attack  *  Communal clash: Police confirm killing of four in AÍbom *  Village head, 49 others abducted in Niger  * Nasarawa cleric, 37 others killed by herdsmen buried  *  Herders' attack: We're under siege , Nasarawa communities cry out. I spent over ten years working and living in various parts of the North. It was the peace and tranquility in the region, more than anything else, which attracted me to the region. Until 2016, I cannot remember a single year when herdsmen were accused of killing 300 people in twelve months. Today, they are accused of wholesale murders of Fellow Nigerians. The President of Nigeria, who doubles as Life Patron of the Miyetti Allah, has never mentioned herdsmen by name; neither has he directly condemned their alleged genocide.
Left to me, he should go directly to Niger Republic; so that we might have a chance to bring peace and personal safety back to Nigeria. This is no joke.
______________________________________________________________________
Article written by Dele Sobowale
Disclaimer
It is the policy of NewsWireNGR not to endorse or oppose any opinion expressed by a User or Content provided by a User, Contributor, or another independent party. Opinion pieces and contributions are the opinions of the writers only and do not represent the opinions of NewsWireNGR