Nyesom Wike invites Tinubu to commission projects in Rivers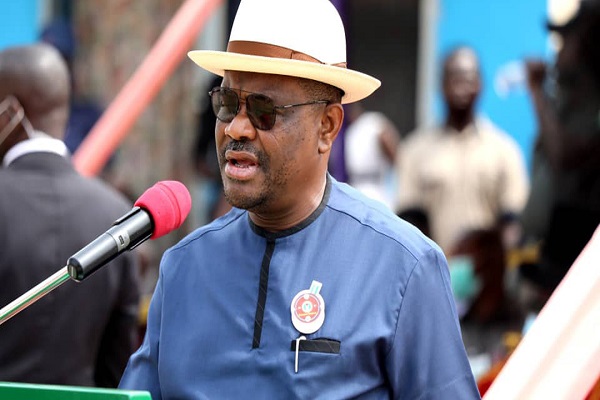 Rivers State governor, Nyesom Wike, says he has invited the president-elect, Bola Tinubu, to visit the state on May 3 and 4 for the commissioning of some landmark projects executed by his administration.
Mr Wike disclosed this on Wednesday while inspecting some completed projects in the state.
According to him, the projects to be commissioned by Mr Tinubu are the Rumuola-Rumuokwuta flyover and the magistrates court building in Port Harcourt.
"To God be the glory. We are expecting the President-elect on the 3rd and 4th of next month to commission the 12th flyover and the Magistrates Court building," he said.
"You can see the Magistrates Court building and how amazing it is. We commend the contractor too who has done this job, and quite on time. I don't think you can find this anywhere in this part of the country."
The governor recalled that the presidential candidates of the Labour Party and the New Nigeria People's Party, NNPP, were invited to commission projects completed by his administration.
"We had invited presidential candidates of other parties like Labour Party, LP, and the New Nigeria Peoples Party, NNPP, they all came and commissioned projects, and we did say to him [President-elect] that we believe that after the election we are going to invite him to commission projects too. And luckily, these two very important projects are ready," he said.
Mr Wike further disclosed that his administration started and completed 12 flyovers within the past four years, adding that he has fulfilled the promise he made to the people of the state.
"Rivers people will of course attest to the fact that we have given our best and we thank God and give him the glory that it has turned out this way.
"We are extremely happy and we can beat our chest, we can go home satisfied that we have not disappointed our people," he said.
"In fact, part of the activities to mark the inauguration of the new governor for the people of the state will be the commissioning of other impactful projects.
"Remember when the inspector-general of police came last time to commission the intelligence centre [Port Harcourt], we did promise him that we are going to build another intelligence centre. As I speak to you now, that centre is ready. Some other projects are the Kesley Harrison hospital."