Adamawa rerun: INEC resumes collation of results, 5 LGAs declared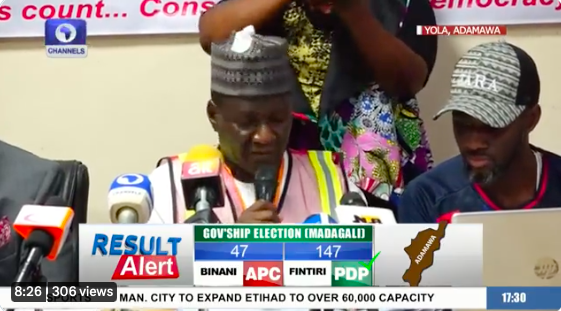 The Independent National Electoral Commission, INEC, has resumed the collation of the supplementary election results held in Adamawa State.
Recall that the collation was suspended on Sunday, following the controversy surrounding the declaration of Aishatu Binani of the All Progressives Congress as the winner of the governorship election in the state.
The Resident Electoral Commissioner, REC, Barr. Yunusa Ari, had made the declaration midstream into the collation.
The INEC state collation centre is now alive with the presence of the National Commissioner, Information and Voter Education Committee, Festus Okoye, and the returning officer, Prof. Mohammed Mele, among others.
Results declared so far at the resumed collation are as follows:
Mayo Belwa
No of Registered voters: 2426
No of accredited voters: 1181
APC 478
PDP 672
Total value votes: 1155
Rejected votes: 26
Total votes cast: 1181
Toungo LGA
No. Of registered voters: 1684
No of accredited voters: 825
APC 427
PDP 360
Total votes cast: 803
Rejected votes:22
Total votes cast: 825
Guyuk LGA
No of Registered voters: 1337
No of Accredited voters: 557
APC 228
PDP 322
Total value votes 551
Rejected votes 6
Total votes cast 557
Gombi LGA
No of registered voters: 819
No of accredited voters: 68
APC 12
PDP 53
Total valid votes; 63
Rejected votes; 1
Total votes cast; 66
Mubi/ North
No. of registered voters: 2054
No of accredited voters: 501
APC 168
PDP 319
Total valid votes; 488
Rejected votes; 13
Total votes cast: 501