"Kogi is not Rivers" – Senator Dino Melaye has fired back at Rivers state governor, Nyesom Wike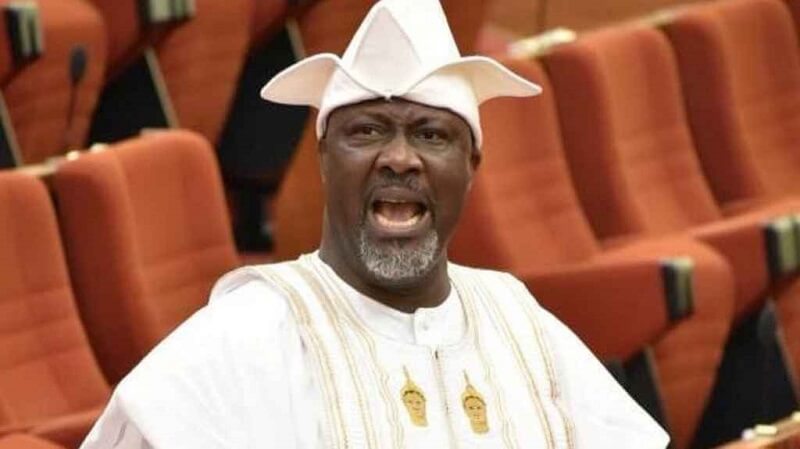 Senator Dino Melaye has fired back at Rivers state governor, Nyesom Wike, who on Tuesday, April 11, laughed off his aspiration to become the next governor of Kogi state.
At a media chat earlier on Tuesday, Governor Wike ruled out Melaye ahead of the PDP primary which precedes the November 15 governorship poll.
Describing Melaye's ambition as a joke, Governor Wike said;
"When you give Dino that ticket, you know he won't win in Kogi State. Why would Kogi people say they would vote for a candidate like Dino? Are we joking?" the governor queried.
However, in a statement released on his social media handle, Melaye said it was surprising that Wike has suddenly become the self-appointed public office regulator, who could determine what would happen in states. He said that the governor has by his utterances against him stepped on the tail of Tiger and will see the repercussions.
"On recovering from his inebriation, Wike should be reminded that Kogi is not Rivers, and the people of Kogi State would not worship any foreign God. Above all, Wike should also understand that power belongs to God, and he gives it to whoever he wants, even the basest of men. Today, Wike can take a swipe at me, and mark me down as unqualified to govern my state, but has he forgotten that he believed my Gubernatorial aspiration in 2019? Can he be reminded that I have served as a member of the Federal House of Representatives and have also been elected twice into the Senate of the Federal Republic of Nigeria."he wrote
Melaye said Wike is against his governorship ambition because he backed PDP flag bearer, Atiku Abubakar against the governor's interest in the G5.
"He (Wike) needs to appreciate that now that he has touched the tiger's tail and murdered sleep, the discomfort of a bird perched on a rope has now become his portion."

"Wike, stay on your lane. I am Daniel Dino Melaye. My speciality is to tame lions, whether they be white or black, dwelling in rocks or floating on Rivers," he said.
Read Dino's full statement below
"The simultaneous appearance of Nyesom Wike on some national television in Nigeria earlier today is a sad reminder of the misfortune that the people of Rivers State have suffered in having an unstable mind and a prodigal head as the Governor of the State for the past 8 years. In the end, all that the indecorous Wike achieved was to buy precious media time to vent his spleen on fellow Nigerians who are more qualified than him to be Governors in Nigeria

Hallucinated by the patrimonial resources of the good, but impoverished people of Rivers State, Wike has turned himself into a depraved interloper, who probably out of schizophrenic impulse engage in pitiable melodrama whenever he steps away from the intoxication of his bottle companions. He has suddenly become the self-appointed public office regulator, who could determine what would happen in states not in any way contiguous to his colonised State.

On recovering from his inebriation, Wike should be reminded that Kogi is not Rivers, and the people of Kogi State would not worship any foreign God. Above all, Wike should also understand that power belongs to God, and he gives it to whoever he wants, even the basest of men. And but for this absolute and indiscriminate dispensation by God, how did a conceited person like Nyesom Wike become a governor? Is it his oratory, diligence, finesse, wealth or intellectual endowment?

Today, Wike can take a swipe at me, and mark me down as unqualified to govern my state, but has he forgotten that he believed my Gubernatorial aspiration in 2019? Can he be reminded that I have served as a member of the Federal House of Representatives and have also been elected twice into the Senate of the Federal Republic of Nigeria

I can understand the pain of Wike. He wanted my support for his misplaced aspiration to become the Flagbearer of the People's Democratic Party in the 2023 Presidential election, but knowing his avowed credential to be eminently unworthy of the ticket I deployed support for His Excellency, Atiku Abubakar, a cosmopolitan and cultured statesman who ignored all the tantrums of Wike throughout the period of the election. Wike is probably mistaken me for His Excellency Atiku Abubakar. He needs to appreciate that now that he has touched the tiger's tail and murdered sleep, the discomfort of a bird perched on a rope has now become his portion.

If Wike were a reflective mind he should now be more concerned about his post-tenure survival, because with the recklessness he exhibited in mismanaging the resources of Rivers State, his prison uniform must have been sewn and his inmate number must be waiting for his allocation. As for me I will not only continue to savour my freedom, I will be sending relief assistance to Wike from Government House Lokoja, by the grace of God.

The indiscretion and war of attrition embarked on by Wike contributed to the public perception of our great Party. He sees nothing good in the Leadership of the Party, yet he can not move to another Party, because which Party will accept Wike in his irredeemable state of ignominious liability

As the good people of Kogi State prepare for the Gubernatorial election, the choice is theirs to make. All the evil machinations and self-destructive conduct of Wike will fail. I have neither sought for nor expected support from Wike. My aspiration is on course. The least I will spare time is distractions from the contentions of the untamed tongue of Wike. As I move forward, I'm guided by the Scriptural invocation:

For the Lord God will help Me; Therefore I will not be disgraced; Therefore I have set My face like a flint, And I know that I will not be ashamed.

He is near who justifies Me; Who will contend with Me? Let us stand together. Who is My adversary? Let him come near Me.

Surely the Lord God will help Me; Who is he who will condemn Me? Indeed they will all grow old like a garment; The moth will eat them up

Isaiah 50:7-9

As I draw the curtain, let me also drop this last verse for Nyesom Wike:

Look, all you who kindle a fire, who encircle yourselves with sparks: walk in the light of your fire and in the sparks you have kindled- This you shall have from my hand: you shall lie down in torment

Isaiah 50:11.

Wike, stay on your lane. I am Daniel Dino Melaye. My speciality is to tame lions, whether they be white or black, dwelling in rocks or floating on Rivers."