Billionaire Dangote plans to make Nigeria self-sufficient in cement and petroleum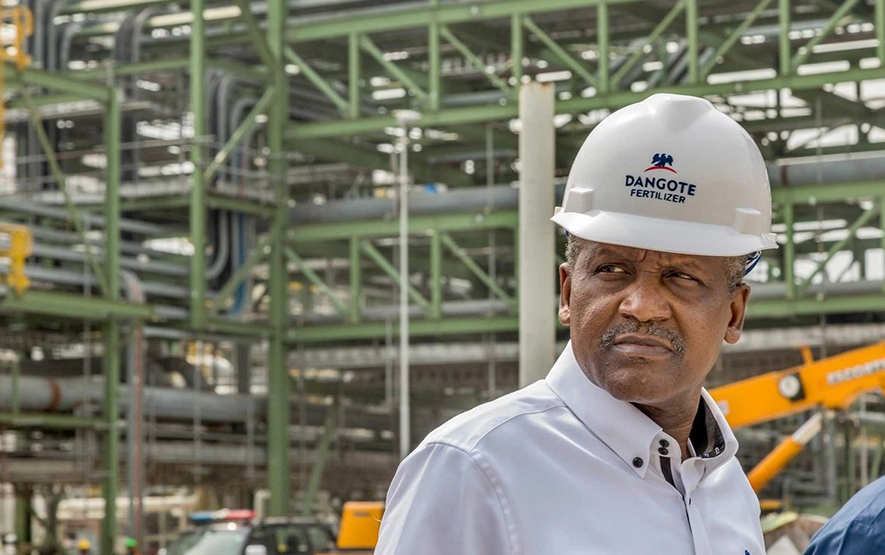 Dangote Industries Ltd. plans to ensure that Nigeria becomes self-sufficient in cement, agriculture, mining and petroleum products.
The Regional Sales Director, Southeast Dangote Cement, Dr Abayomi Shittu stated this in Enugu on Thursday during Dangote Special Day at the on-going 34th Enugu International Trade Fair.
Dangote Industries Ltd. is into cement, sugar, salt, poly products, real estate, agriculture, logistics, telecommunications, steel, oil, and gas among other businesses.
Three of its subsidiaries – Dangote Cement Plc., Dangote Sugar Refinery Plc. and Dangote Salt, trading under the name of NASCON Allied Industries Plc. – are listed on the Nigerian Stock Exchange.
"Our continuous efforts to innovate, create value and invest in Nigeria are borne out of our firm belief in the vast economic potential of Nigeria.
"Dangote Sugar Refinery, through its out-grower scheme has provided jobs for thousands of farmers in its host communities.
"The coming of Dangote Fertiliser has to a great extent helped to change the face of agriculture in Nigeria while the Dangote Petroleum Refinery, when functional will drive the development of ancillary industries.
"We recruit graduates of engineering and other technology-based courses and train them in many aspects of industrial operations,'' Shittu said.
He noted that trade fairs organised by the Enugu Chamber of Commerce Industries, Mines and Agriculture, ECCIMA, are unique because Enugu State has about the largest concentration of industries in the Southeast and South-South geopolitical zones.
He added that ECCIMA's trade fairs remained avenues for industries to connect with customers in the Southeast and in the adjoining zones.
In his address of welcome earlier, President of ECCIMA, Jasper Nduagwuike applauded the Dangote Group for its continuous support.
He noted that Dangote Group's decision to be one of the major sponsors of the 2023 trade fair spoke to the love the group had for ECCIMA and the entire southeast geopolitical zone.
"We believe that the Dangote Refinery will go a long way in addressing the challenges and problems associated with availability and cost of refined petroleum products when it comes on-stream.
"Today, Dangote's business and entrepreneurship scheme has spread to many parts of the African continent, employing thousands of people across the world of which not less than 85 per cent are Nigerians,'' Mr Nduagwuike said.