VIDEO: MC Oluomo must pay if he broke the law — Lagos Deputy Governor says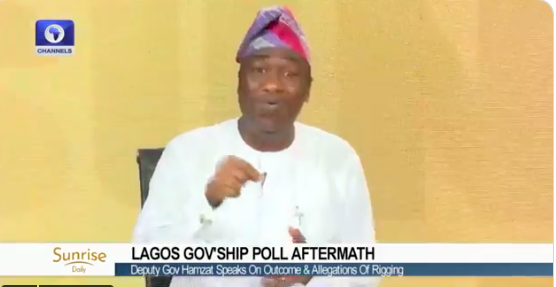 The Deputy Governor of Lagos State, Dr. Obafemi Hamzat, on Tuesday addressed the allegations of ethnic profiling and voter intimidation against Musiliu Akinsanya better known as MC Oluomo. 
In the lead-up to the March 18 governorship elections, MC Oluomo appeared in a viral video cautioning Igbo voters who would not cast their ballots for the ruling All Progressives Congress (APC) to stay home.
After criticism, MC Oluomo, who is also the Chairman of the Lagos State Parks Management Committee, made an attempt to clear things up, saying he spoke in a playful tone and was addressing a lady called "Iya Chukwudi", not the Igbo in Lagos.
But Hamzat, who made a live appearance on Channels Television's Sunrise Daily, said MC Oluomo must face the law if there is evidence pointing to his culpability.
Asked if he saw reason in the calls for the arrest of the APC supporter, the deputy governor said, "I'm not calling for the arrest of anybody. I'm not a police officer; I'm not a prosecutor. People will look at the evidence.
He said, "Well, I'm not calling for the arrest of anybody, I'm not a police officer or a prosecutor, people will look at the evidence.
"In the case of MC Oluomo, he has come out to say that he was referring to one Mama Chinedu in a video and the woman has responded that he was talking to her and has been her customer for years.
"So I don't know the facts but people should examine the facts and if in truth he has broken the law, of course, he must pay for it and it's as simple as ABC."
"In the case of MC Oluomo, he has come out to say that he was actually referring to one woman that is Mama Chinedu, or something like that. There's a video that shows that and that woman said, 'He was talking to me and we've been friends or he's been my customer for years.'
"[She said] that he was talking to her. So, I don't know the facts, but people should examine the facts and if in truth he has broken the law, of course, he must pay for it. It's as simple as ABC."