Vice-presidential candidate of the Labour Party, Datti Baba-Ahmed, tells CJN not to swear in Tinubu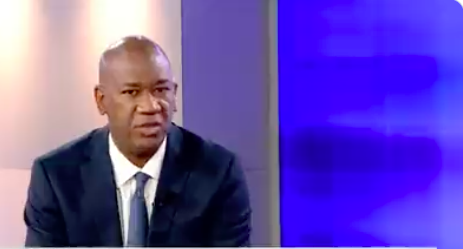 The vice-presidential candidate of the Labour Party (LP), Datti Baba-Ahmed, has asked the Chief Justice of Nigeria not to swear-in the President-elect, Bola Tinubu, on May 29.
Tinubu, the All Progressives Congress (APC) candidate, was declared the winner of the presidential election by the Independent National Electoral Commission (INEC) on March 1.
But Baba-Ahmed, who made a live appearance Wednesday on Channels Television's Politics Today, argued that the APC failed to satisfy the requirements of Section 134 (2)(a) and (b) of the constitution for election to the office of the President.
According to the provisions of that section, the rightful winner is one who "has the highest number of votes cast at the election" and "has not less than one-quarter of the votes cast at the election each of at least two-thirds of all the States in the Federation and the Federal Capital Territory, Abuja".
Addressing President Muhammadu Buhari and the Chief Justice of Nigeria (CJN), Justice Olukayode Ariwoola, the LP vice-presidential candidate made the argument that going ahead with Tinubu's inauguration would be unconstitutional.
"Mr President, do not hold that inauguration. CJN, Your Lordship, do not partake in unconstitutionality," he said.
According to him, swearing in a ticket that has not met the requirements of the constitution is ending democracy.
"That is my interpretation and that is indeed a correct interpretation," Baba-Ahmed added. You cannot swear [in] people who have not met the constitutional requirements; you can't do that.
"If you do it, you have done something unlawful, something unconstitutional. I'm not taking risks with my safety and with my life. It was more extreme for [INEC Chairman, Mahmood] Yakubu to issue that certificate; it was reckless. He's putting all our lives in danger."