Why you should vote APGA – Governor Chukwuma Soludo begs people of Anambra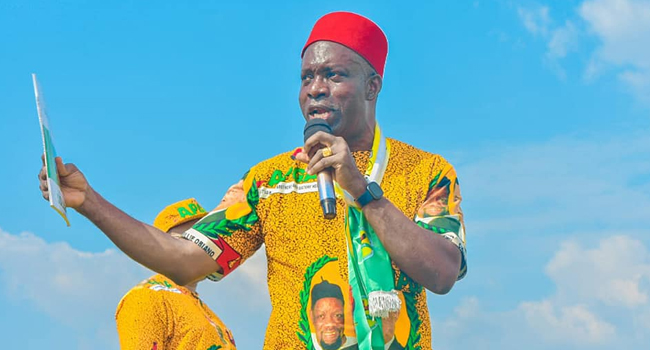 Governor Chukwuma Soludo, has said his administration is on track in its determination to deliver good and quality governance to Anambra people in spite the economic challenges.
Mr Soludo said his administration had not despised anybody but is only taking policy decisions that were hard headed but in the overall public interest.
The governor spoke through Dr Alex Obiogbolu, his Senior Special Adviser who spoke to journalists in Awka on Friday.
Mr Soludo said he had not taken the people of Anambra or their support for his government for granted but was doing the best a responsive government could do in terms of delivering dividends of democracy within the limits of available resources.
According to him, nobody is despising anybody, there is a need for us to separate public interest from personal interest. We have a state with a population of about six million or seven million.
"This administration came in and decided to treat road as an emergency and in 10 months, 267 kilometres of roads have been awarded, guaranteed to last 20 years. All will be delivered in 24 months and 35 per cent of these roads are near completion
"We have an approved loan request of N100 million but it has not been accessed, yet we have paid about 30 per cent mobilisation for all the road contracts.
"It is true that the good people of Anambra rooted for this administration but they did it in the first place because they believed we will do a good job," he said.
On the accusation of heavy taxes and not appointing many people as Special Advisers, Mr Soludo said the prevailing economic situation of the state could not shoulder the burden at the moment.
He said, rather, his administration had decided to fill the manpower gap identified in some critical sectors, including education, health and addressing the challenges of insecurity.
He said he was evolving a progressive tax regime where the poor would no longer fund the rich as well as expanding the tax base to shore up the revenue profile of the state.
"The salary of a Special Adviser is about the salary of six teachers a month, when we came in we met schools without teachers, and hospitals without doctors.
"Out of the 7,500 manpower gap identified in the school system, we employed 5,000 in one full swoop, that is roughly the salary of 900 Special Advisers.
"We appreciate the support we got from our people, about people who supported the government to assume office, there is nothing bad in having 1,500 Special Assistants but the resources available cannot take care of this for now.
"That is the public interest decisions we are talking about, how is the government despising anybody," he said.
On the March 18 House of Assembly election in Anambra, Soludo expressed optimism that people of the state would vote for candidates of All Progressives Grand Alliance (APGA) as he was doing enough to enjoy their continued support.
He said the question for an APGA-dominated House of Assembly was not to create a rubber stamp legislature but to sustain the current robust executive-legislature relationship for seamless development.
He described APGA as a political party with a difference, which was founded on the ideology of a people, with a soul in the Southeast and served as home for anybody who was aggrieved elsewhere.
According to him, "we are positive that we have done a lot of work and we are confident that the electorate will appreciate the direction of the government and cast their votes for the candidates of APGA.
"While we have few who are complaining, there are many more who appreciate what this government is doing, that is why in the Federal House of Representatives election, we won 10 out of the 20 LGAs so far declared.
"This government constituted a strike force under the AVG Law and flushed these people out from the eight local governments under their control to wherever they are now.
"This is what a responsible and responsive government does, this is what a government that works in harmony with the legislature does," he said.
The governor said the March 18 House of Assembly election would be peaceful and urged the electorate to come out en masse to exercise their civic rights.