I signed Manchester United Pre-contract before joining Chelsea – Mikel Obi says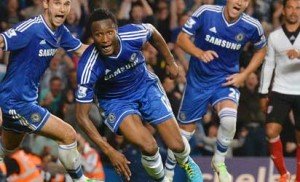 Chelsea cult hero, John Obi Mikel, has detailed what really happened when he snubbed Manchester United in favour of the Blues.
His switch to Chelsea in 2006 featured the Nigerian being terrified of Sir Alex Ferguson, Roy Keane petitioning for his signature and a reported kidnapping.
Mikel had impressed at the FIFA U-17 World Championships for Nigeria, but he couldn't move to the Premier League until he was 18-years-old. As a result, the Nigerian was playing for Norwegian side, Lyn, when United and Chelsea went head-to-head for his signature.
Speaking on Dubai Eye 103.8, Mikel said: "I had my trials (before I went to Chelsea) with Manchester United, and (Sir Alex) Ferguson loved me, and all the players loved me. Roy Keane was my biggest fan. He said, 'Gaffer, you need to sign this, kid.'
"Ferguson flew to Norway with a contract and said, 'sign this pre-contract; you have to sign it!' I could never say no (to Ferguson)."
However, Mikel had also agreed to sign with Chelsea, and he revealed he was at Lyn with the Blues paying his school fees and helping out his family. Upon hearing he had signed for United, Chelsea claimed they had an initial agreement with Mikel and his agents.
Eventually, the two sides settled their differences when United agreed to terminate their option agreement with Mikel and received compensation from the Blues.
In the middle of the transfer saga, there were bizarre reports that Mikel had been kidnapped. However, speaking to The Athletic, he cleared up these claims: "Yes, there was talk of that. Look, I wasn't really kidnapped. I was just staying away from the public eye, away from the press, making sure no one knew where I was."