Obaseki does not have the power to order for my arrest – Oshiomhole dares Edo Governor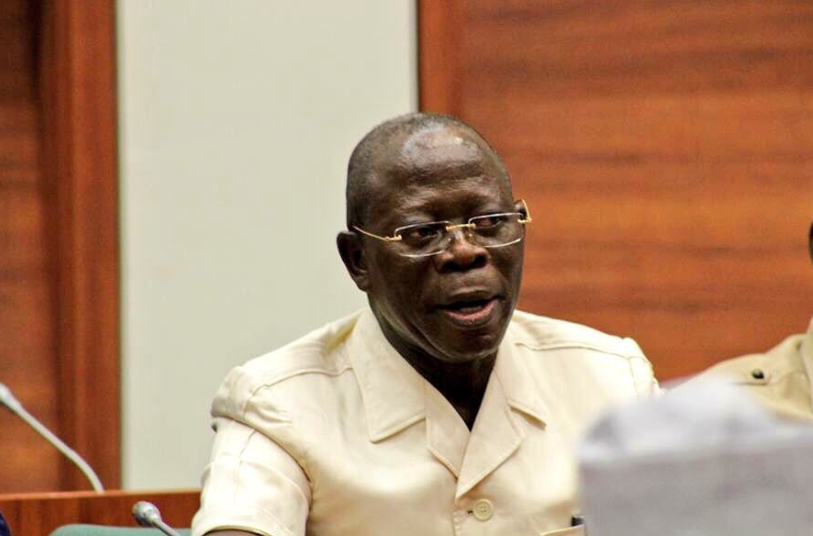 Former governor of Edo State and former National Chairman of the All Progressives Congress (APC), Comrade Adams Oshiomhole has lampooned the governor of Edo State, Mr Godwin Obaseki over reports that he should be arrested for allegedly instigating the protests that erupted in the state last week because of the new naira notes controversy.
  Oshiomhole while speaking to some journalists in Benin City weekend, declared that his successor does not have the power to order the arrest of a citizen and that his position was part of the reasons people have reservations about state police which could easily be abused by some state governors.
According to him, "the Law is very clear on it that if a crime has been committed it is up to the security agencies to investigate and if they find someone who they think may have had the need to invite, the person is invited for questioning.
"The police have not and I will be surprised if they have now degenerated to taking orders from a politician who is faced with the crisis of confidence and the people have been voting against him.
"There are huge issues of the legitimacy of his government and he thinks that he can order police to arrest whoever he considers to be his political opponent.
"But let me say that Obaseki is a victim of his own double standard. He says one thing in the morning he does another the following day.
"I think Obaseki after embarrassing the Central Bank Governor, Emefiele, when he accused him sometime last year or the year before of printing hundreds of billions of Naira to share for states by way of Federation Account and that Emefiele's policies are going to destroy the Naira even as he admitted that the money was being shared to State Governments.
"So Obaseki wanting to make money out of this hardship suddenly became pro-CBN Governor, defending anti-people policies where your people are groaning and he has made the wrong assumption that Edo people do not know their right from their left."