Tell us when you are sexually harassed or bullied – Ondo University VC tells new students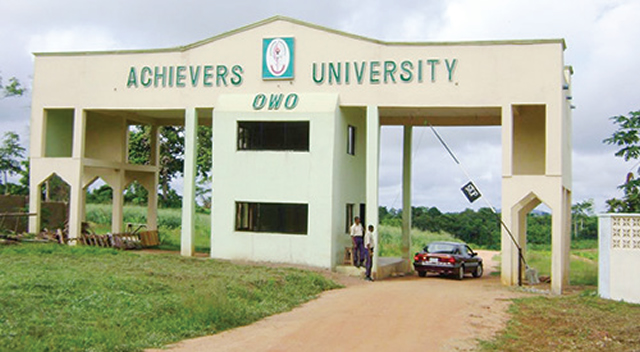 The Pro Chancellor of Achievers University, Owo, Ondo State, Dr Bode Ayorinde, has advised the new students of the institution not to hesitate to report any form of harassment or bully to the school management.
Ayorinde told the students not to suffer in silence and be bold to report any form of harassment to the school authority, stressing that the institution had zero tolerance for all forms of indiscipline.
The pro-chancellor gave the advice during the 16th matriculation ceremony of the institution on Friday.
A total of 891 students took the matriculation oath of the university at the ceremony held on the campus of the school.
He said, "The university community does not allow any form of bullying or harassment and the institution is a free society. Our lecturers are parents, so there's no form of sexual harassment or sex for marks from any lecturer in this university".
The Achievers University boss stated that the school had graduated over 6,000 students in the last 15 years and their graduates were doing well in their various endeavours . 
"You are here for transformation, come through that transformation with dignity, it is a worthwhile venture.
"There is no room for laziness, we don't sell our university certificate, irrespective of whom you are and that is why our school fees is not much, we want to impact knowledge," he stressed.
The pro-chancellor also urged the parents to monitor their children's movements, charging the students to study well, obey the rules and regulations of the school and avoid fights.
Earlier in her address, the Acting Vice Chancellor of the school, Prof. Omolola Irinoye, congratulated the students, stressing that they were indeed lucky to be admitted into the school, promising that they would have the best education from the school and would be able to compete with their peers anywhere in the world.
She admonished, "You're here to learn and not to play, be in your lecturer classes at the appropriate time and do not disrespect your lecturers in any way".