Northerners are backing Tinubu – Ganduje speaks for an entire region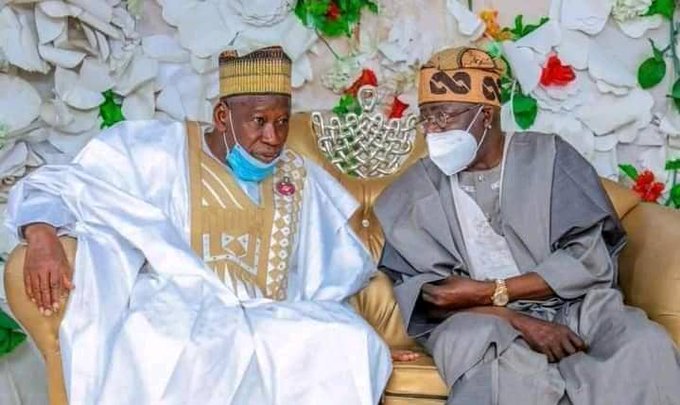 Kano State Governor, Abdullahi Ganduje, yesterday urged Nigerians to remain with the All Progressives Congress (APC), claiming that 19 northern states are committed to ensuring victory for the party's presidential candidate, Bola Tinubu.
Addressing party loyalists and supporters of APC at the Edo APC presidential campaign in Benin City, Ganduje said the resolve by 19 northern states to work for the APC presidential candidate is to ensure peace and development of the country.
In his remarks, former National Chairman of APC and immediate past Governor of Edo State, Adams Oshiomhole, urged Edo residents to support and ensure victory for the APC in the state.
Oshiomhole, who described Tinubu as a unifier, expressed sadness that he warned the people against supporting the opposition PDP in Edo, adding that the incumbent governor has disappointed the people.
Former Minister of Niger Delta Affairs, Godswill Akpabio, described Bola Tinubu as a man committed to the peace and development of Nigeria.
Meanwhile, the Edo State government has berated Oshiomhole, describing his outburst while campaigning for APC and Tinubu as shameful. A statement by Crusoe Osagie, Special Adviser, Media Projects to Governor Godwin Obaseki, made available to newsmen, accused Oshiomhole of attempting to sell lies in a last-ditch effort to revive his dead political career.
"While Edo people's rejection of the APC and their candidate was obvious by the poor turnout at the rally and the soulless atmosphere that enveloped the complex, it is quite telling what fate awaits the APC in the general elections in Edo State next month.
"It is pertinent to stress that the outdated politics of trying to replace facts and truth with lies and falsehoods, as was done by Oshiomhole in his lame speech and the contemptible reference to fixing erosion in the state, has been vanquished in Edo State and across Nigeria."
According to Osagie, Oshiomhole's political career has ended and "no matter how high he jumps on a stage or how low he goes to impassion the scanty crowd, the people see through his facade and recognise his ill-intentioned antics and lies."