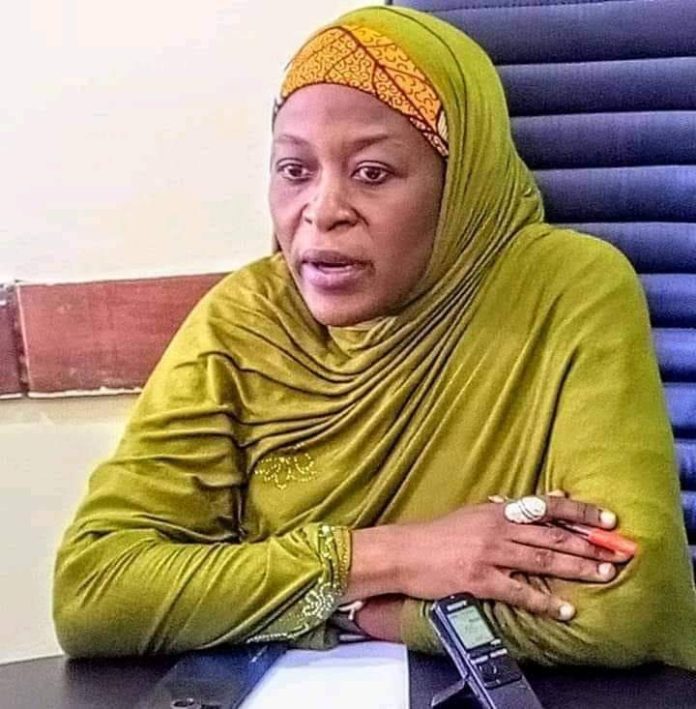 Hajia Saadatu Bello Kirfi, the Commissioner, Ministry of Cooperatives and SMEs Development of Bauchi state has resigned her position following the dethronement of her father as "Wazirin Bauchi".
NewsWireNGR reports that Saadatu's father, Bello Kirfi, a former Minister of Special Duties, was stripped of his traditional title of "Wazirin Bauchi" by the Bauchi Emirate Council. He was removed from being a Council Member for the second time in five years.
The Octogenarian's removal was conveyed in a letter addressed to him by the Secretary of the Bauchi Emirate Council, Alh. Shehu Mudi Muhammad.
It was dated January 3rd, 2023, with reference No: BEC/ADM/20/VOL.XV and titled: "Removal from office as a Council Member and Traditional Title of Wazirin Bauchi."
Muhammad stated in his letter that the Ministry for Local Government and Chieftaincy Affairs in the state informed the Emirate Council of Kirfi's "disloyalty and disrespectful" to the governor, hence his removal from office.
He said: "I am directed to refer to a letter received from the Ministry of Local Government Affairs of reference No: MLG/LG/S/72/T dated 30th December 2022.
"The content of the said letter indicated your disloyalty and disrespect to the Executive Governor of the State and the government. It therefore directed for your removal with immediate effect.
"In view of the above, you are hereby removed from office as Wazirin Bauchi and also as a Council Member of Bauchi Emirate."
Kirfi was suspended by the Bauchi Emirate Council in March 2017 by the then-governor, Mohammed Abubakar.
Hajia Saadatu's resignation letter reads in part; "Your Excellency, I wish to humbly tender my resignation as a member, Bauchi State Executive Council, and Hon Commissioner Ministry of Cooperatives and SMEs Development, Bauchi State with immediate effect.
"I wish to thank His Excellency the Executive Governor for giving me the opportunity to serve my State under your Administration."
In a similar development, Harsanu Yunusa Guyaba, Senior Special Assistant on Local Government Affairs of the State also resigned his position.
His resignation letter reads in part; "It is with immense gratitude to the Almighty Allah (SWT) and deep appreciation to His Excellency, the Executive Governor of Bauchi State, Sen. Bala Abdulkadir Mohammed CON (Kauran Bauchi) that I wish to tender my resignation as Senior Special Assistant (SSA) on Local Government Affairs with effect from Tuesday, January 3, 2023.
"On behalf of myself, family members, friends, supporters and well-wishers, I wish to register my personal appreciation to His Excellency, Governor Bala Abdulkadir Mohammed for finding me worthy of appointment to the position of SSA on Local Government and Chieftaincy Affairs. It is a great honour done to me."