'Kukah don't cook me nonsense' – Femi Adesina hits back at Bishop Kukah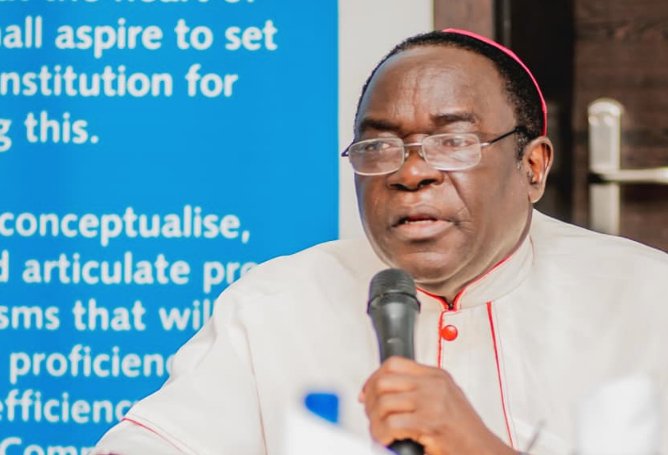 The Special Adviser, Media and Publicity to President Muhammadu Buhari, Femi Adesina has reacted to the statement credited to the Bishop of Kaduna diocese, Hassan Kukah.
Kukah had in his Christmas message accused Buhari's administration of nepotism, noting that Buhari has failed in fulfilling his campaign promises to Nigerians
He said the broken promises of Buhari are leaving Nigerians more vulnerable, adding that the corruption he promised to fight has become a leviathan and sadly, a consequence of a government marked by nepotism.
But reacting to the above statement in his article titled: 'Kukah don't cook me nonsense', the presidential spokesperson averred that if Kukah was succeeding in his duty as a priest, then his adherents should be less prone to corruption, and the leviathan should have been slain, or badly wounded.
Expatiating, Mr Femi said if "corruption is still the monster the Bishop claims it is, then he, too, is failing as a moral authority and guide".
Below is his words: " Again, he alleged that corruption was not fought, and had become a leviathan. Yes, when corruption creeps under the robes and cassocks of even priests, they would never see it being fought. Just a fortnight ago, Chairman of the Economic and Financial Crimes Commission, Abdulrasheed Bawa, was guest at the weekly State House press briefing.
"Facts he unveiled were enough to show the yeoman's work being done. But people like Bishop Kukah listen only to themselves, and have no time for alternative reality. So, when the monster is being assailed and being badly wounded, all they still see is the leviathan.
"And by the way, if corruption is rife in a country, is it necessarily just the fault of a President? No. It is the fault of everyone, including the people, the institutions, the family, religious leaders, political leaders, everyone.
"If the Bishop was succeeding in his duty as a priest, then his adherents should be less prone to corruption, and the leviathan should have been slain, or badly wounded. So, if corruption is still the monster the Bishop claims it is, then he, too, is failing as a moral authority and guide."