Governor Nasir El-Rufai mocks civil society group, SERAP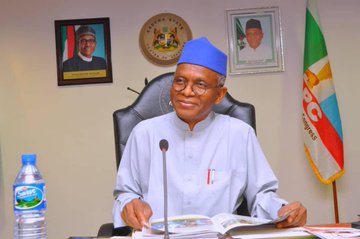 Kaduna State Governor, Nasir El-Rufai, has taken to his Twitter handle to mock civil society group, Socio – Economic Rights And Accountability Project, SERAP, over their recent lawsuit against President Buhari.
In a tweet posted on its handle, SERAP said it is going to file a lawsuit against President Buhari over the recent discovery of a pipeline used to steal petroleum products.
"BREAKING: We're suing the Buhari administration over the discovery of illegal oil pipelines, to compel it to name those responsible for the plundering of the country's oil wealth, bring them to justice, and recover the proceeds of crime."
Reacting to the tweet, Gov El-Rufai wrote;
"@SERAPNigeria PMB should have given you guys the first-in-history national honor of GCBBFR – Grand Clowns and Body-Bodies of the Federal Republic!! Your thoughtless words and ineffective actions have earned the recognition!!"
The Socio-Economic Rights and Accountability Project (SERAP) was created in 2004 and registered as a non-governmental, non-profit organization under Nigerian laws.
Recognising the unexplored potential of international human rights law for increasing transparency, accountability and protection of economic and social rights in Nigeria, SERAP was created to promote these principles and values. The organization aims to use human rights law to encourage the government and others to address developmental and human rights challenges such as corruption, poverty, inequality and discrimination.