Watch as armed robbers take over Lagos-Ibadan Expressway in the early hours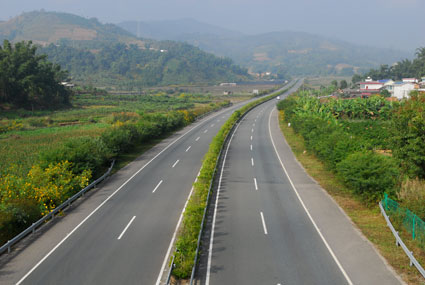 Commuters Scamper as armed men operate unperturbed at longbridge at the popular Lagos – Ibadan expressway early Wednesday.
A video has surfaced showing the moments after a robbery on Long Bridge along the Lagos-Ibadan Expressway in the early hours of Wednesday.
Facebook user, Kehinde Alasholuyi, who posted the video said, "ALERT 06h33 -10 August: Armed robbers operating on the heavy traffic on Long Bridge opposite Mikano/Karameh city on Lagos/Ibadan Expressway. Many motorists and commuters rushed out and abandoned their vehicles."
WATCH as Commuters Scamper As Armed Men Operate On Long Bridge
The worsening gridlock at the Longbridge, Ogun State end of the Lagos-Ibadan Expressway due to ongoing construction has created an avenue for louts to make money.
Multiple media sources say some of the boys dug a tunnel under the Longbridge to enable motorists and commercial drivers to beat traffic on the road.
It was observed that, road users drove through the tunnel, which was at the beginning of the bridge inward Lagos while the the tunnel was flooded.
With the tunnel, motorists connected to an untarred road at the Warewa area and drove against traffic towards Berger, Lagos State.
However, there was a pumping machine and a pipe which, according to a commercial bus driver, was used to drain some of the water to ease the movement of vehicles.
The hoodlums were seen during the week, directing motorists into the tunnel while also demanding money before granting them passage.