Civil society organisations protest in Abuja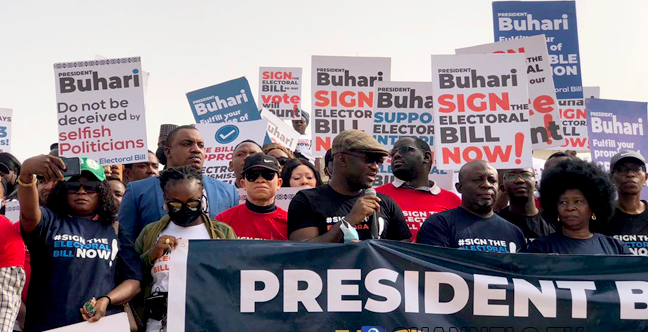 Groups including civil society organisations under the umbrella of the Situation Room have stormed the Unity Fountain in Abuja for a protest.
The protesters on Tuesday morning gathered at the Unity Fountain and displayed various placards asking President Muhammadu Buhari to assent the Electoral Act Amendment Bill into law.
This comes nearly a month after lawmakers in the Senate and House of Representatives chambers of the National Assembly passed the harmonised version of the bill.
Passed on January 25, the bill was transmitted to President Buhari a week after, as confirmed by his Senior Special Assistant on NASS Matters (Senate), Senator Babajide Omoworare.
Security agencies including the Police and Federal Road Safety Corps (FRSC) are also present – The protesters later went on procession towards the National Assembly.
The Peoples Democratic Party (PDP) governors on Monday said President Muhammadu Buhari is unwilling to sign the Electoral Act Amendment Bill.
Following the refusal of the president to sign the document over the mode of primaries, the National Assembly had on January 31 transmitted the reworked bill to the president for assent.
The presidency had on February 10 said President Buhari is desirous to assent to the bill and is still consulting with critical stakeholders on whether to sign the electoral act amendment bill or not. But activists remain concerned and continue to pressure the President to sign the reworked electoral bill into law.
Meanwhile, the Special Adviser to the President on Media and Publicity, Mr Femi Adesina in an interview on Channels Television, Sunrise Daily said it is just a matter of hours for President Muhammadu Buhari to sign the Bill.
Adesina during the interview on Tuesday morning assured that President Buhari will sign the bill any moment from now, "It could be today, it could be tomorrow, it could be anytime, but within the 30 days.
"It could be signed today; it could be signed tomorrow. In a matter of hours, not days. Hours could be 24 hours, it could be 48 hours; not days, not weeks."