'The world will not respect Africa anymore if Nigeria comes to harm' Kano Governor says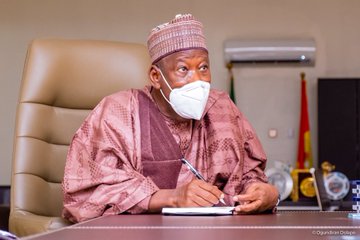 The Kano State Governor, Dr. Abdullahi Umar Ganduje has called on secessionist agitators to give a chance for dialogue
The Governor who stated this in Abuja in his keynote address at the second Public Lecture Series organized by the All Progressives Congress, APC Press Corp, noted that the world will lose respect for Africa if Nigeria divides.
"The world will not respect Africa anymore if Nigeria comes to harm and our 'Mandela The Great' won't sleep well if we blow up this opportunity to lead the black race. That is why we the leaders need to come together to appeal to our aggrieved people who are agitating for self-determination at this time.
"The Biafran agitators and a small section of the Yoruba nation agitating for Oduduwa Republic should therefore always have this at the back of their minds in their political calculations and transformations. It is on record that the great Dr. Nnamdi Azikiwe, the first president of Nigeria, was an Igbo man and also a perfect negotiator and foremost champion of Nigeria's unity.
"The same for the great Chief Obafemi Awolowo. He never agitated for secession. He was loud and clear on the restructuring of the federation. And that demand is even louder and the debate is on and no one is troubling agitators for agitating for restructuring of the federation.
What is more, the governing party, the APC has a working document already on this (restructuring). This is the way we should all go. There should be no secession distraction at this time.
"Therefore, at this point in the country's history, all right-thinking citizens, irrespective of their tribal and religious inclinations should bond together to sustain the corporate existence of the most populous and naturally endowed nation in Africa. We must shun temptations and anger capable of leading us into more turbulent time that cannot be controlled as we have in some North African and Middle Eastern countries" Governor Ganduje said.