Who is Nnamdi Kanu? Everything you need to know about the Biafra separatist extradited to Nigeria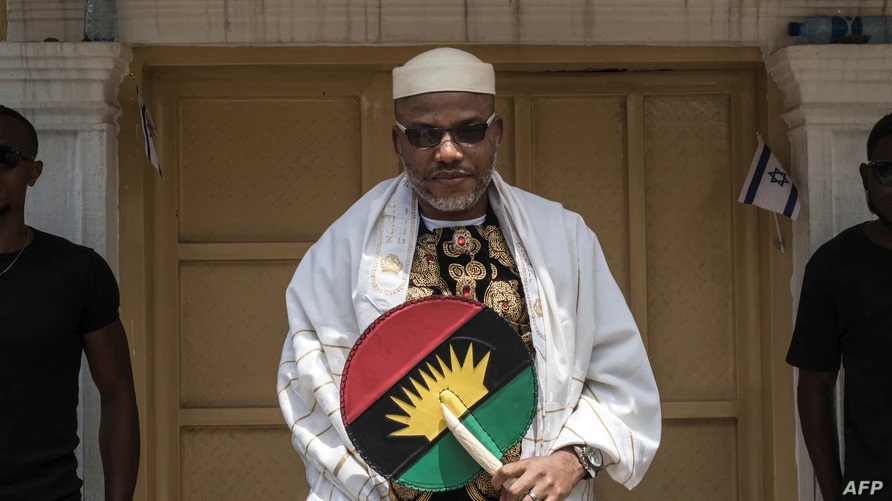 The leader of the Independent People of Biafra separatist group Nnamdi Kanu was extradited to Nigerai on Sunday, June 27 to face trial. 
The Attorney-General of the Federation and Minister of Justice, Abubakar Malami told journalists on Tuesday, June 29, 2021, that the IPOB leader was arrested based on a collaborative effort between "Nigerian intelligence and Security Services". He however did not reveal details of where the self-acclaimed Biafra leader was arrested. 
Later that day, pictures of Kanu in chains, heading to a Federal high court in Abuja confirmed that the Nigerian government had indeed gotten one again over the IPOB leader who flouted all bail conditions and absconded the country.
A lot has since been written about Kanu, his no holds barred approach to secession and the dangers of being imprisoned in a Buhari-led democracy. But what has flown under the radar of public discourse is – who really is Kanu if we strip him off the Ojukwu-Incarnate brand?
WHO IS KANU?
The first connection between Nnamdi Kanu and the Biafra dream is when and where he was born.The civil war between Ojukwu-led Biafra and the Nigerian government broke out on July 15, 1967; and just two months, 10 days after, Nwannekaenyi "Nnamdi" Okwu Kanu was born on 25 September 1967. He was born in Isiama Afara Ukwu, Umuahia, Abia State which was then a Biafra Republic.
He attended Library Avenue Primary School (now part of Government House, Umuahia) and went to Government College Umuahia for his secondary education. He initially attended the University of Nsukka (UNN) before leaving two years later to go study Political Economics at London Guildhall University.
.
Apart from being regarded as a former London estate agent, much of his life from when he finished university to when he started Radio Biafra in 2009 have been shrouded in obscurity. He was however last regarded as a full-time Director of Radio Biafra and the 'Supreme Commander' of the Indigenous People of Biafra (IPOB). Radio Biafra, was created to charge Igbo consciousness and call for an independent state for the Igbo people and broadcast to Nigeria from London. It shut down due to financial difficulty but it was later revived around 2012 to 2014. Radio Biafra broadcast to Nigeria from London.
Kanu claims to be Jewish. In some of his past court appearances, he appeared wearing a Jewish prayer shawl and a head covering. He has also led his followers to Jewish prayers and religious observations much to the ire of Jewish authorities in Nigeria.
Kanu was born as the first son to the deceased traditional ruler of Isiama Afara, a community in Umuahia, Abia State, HRM Eze Israel Okwu Kanu. His mother is Ugoeze Nnenne Kanu and he is the first of five children by his mother.
Both parents died three months apart in 2019. Ugoeze Sally Kanu, died on August 30 in a German hospital while his father died on December 06, 2019.
Kanu's wife is Uchechi Okwu Kanu. They reportedly tied the knots in 2009 and they welcomed their first son on January 4th, 2016. Uchechi is based in the United Kingdom and she is a strong advocate for Biafra just like her husband. She said she and her family would move away from the UK if the Biafra dream is achieved.
WHAT PEOPLE SAY ABOUT HIM?
Conman, segregagist, supreme leader, trouble-monger are some of the polarising adjectives that have been used to describe Kanu.
Here are some of the quotes on the Biafra leader:
After falling out with each other, former Niger Delta militant, Mujahid Asari Dokubo has described Mazi Nnamdi Kanu, leader of the proscribed Indigenous People of Biafra, IPOB as a criminal who hides behind the Biafra struggle to extort money from Igbos.
"Biafra is your business now, you have no other avenue for gainful income. It is a pity how Igbo people have fallen for this evil, but your time is up.
"I am out for you. And I will get you. I just asked that our people be allowed to vote, and you sent your dogs. I've broken their teeth."
"While growing up, he was a very bright boy, very intelligent and brilliant and he was very serious with his studies. He was quite serious-minded for his age,
"I used to observe him with his peers, whenever they were arguing or debating one thing or the other, he would usually enlighten them, telling the others what was the real fact. He was very knowledgeable and sometimes his mates would wonder how he knew more than them. They would ask him, 'How come you know all these? Where did you get the information?" – His father
"This is against the practice. The Jews don't evangelise, the Jews don't look for converts but by the activities of Mazi Nnamdi Kanu, thousands are trooping into our synagogues with the wrong information. These people see Judaism as a militant religion, war religion but Judaism is a religion that teaches love and peace which is why our greeting in Judaism is SHALOM, meaning peace" –The Judaism Fellowship Initiative, Nigeria
Kanu's famous statements:
On September 5, 2015, as a guest speaker at the World Igbo Congress which was held in Los Angeles California. He said, "We need guns and we need bullets".
"I owe my survival to the State of Israel"
"I will destroy Nigeria with the truth"
"It is clear that the only language the zoo called Nigeria understands is war and death and we are ready for war"
"If they don't give us Biafra, there will be nothing left breathing in that zoo called Nigeria"
Faceoff with the government:
Nnamdi Kanu was first arrested in October 2015 on charges of criminal conspiracy and belonging to an illegal society.
He was freed on bail on medical grounds in April of that year but he absconded from Nigeria after a military raid on his house five months later that left many dead.
Kanu had not attended court dates since then but images of him in Israel surfaced on social media in October last year, he then left for the United Kingdom.
In December 2020, Kanu announced the formation of the Eastern Security Network (ESN), a regional security force. Kanu later gave all the governors of southeast Nigeria 14 days to ban open-grazing, threatening to deploy the ESN to enforce a ban if the authorities did not do so.
The Nigerian army and air force renewed hostilities on February 18 by launching a military offensive against the ESN. After subduing ESN, the Nigerian government charged after Nnamdi Kanu and reportedly arrested him in Kenya.