The much anticipated Lagos Local Government elections kicked off today (Saturday, July 24, 2021) as scheduled.
The state government has restricted movements throughout the state between 8:00 am and 3:00 pm.
The election is conducted by the Lagos State Independent Electoral Commission (LASIEC).
Voting is expected to begin at 8 a.m. and end at 3 p.m. in all the polling units, while those in the queue by 3 p.m. will be attended to.
NewsWireNGR presents you updates gathered across media, from reputable sources.
Declaration of results for the Chairmanship and Councilorship elections ends late in some polling units in Somolu and Bariga, with the All Progressives Congress (APC) leading.
The News Agency of Nigeria (NAN) reports that at Ward D Unit 023, Anifowose Street in Somolu, total number of registered voters was 120.
For chairmanship, APC recorded 52 votes, PDP (4), YPP (1) and Accord (1).
Also for councilorship at same ward, APC recorded 46 votes, PDP (7) YPP (3) and Accord (1), while eight cards were counted as void.
Segun Adebowale, the Presiding Officer at Ward E, Unit 003, Anuoluwapo Street, said the total number of registered voters was 69, but one was void.
According to him, APC had the highest votes for Chairmanship, having recorded 54 followed by Accord (8), PDP (5) YPP (2).
Also for councellorship, APC recorded 57 votes, Accord (5), PDP (4) and YPP recorded(3).
A party agent for APC, Mr Olakunle Ogundele, in an interview with NAN, however, attributed the low turnout of voters to the economic downturn in the country.
According to him, the erection of new houses in Somolu had made some residents to move to remote areas as house rents continue to increase.
Ogundele said that the mass relocation to other areas led to low results in the number of voters that participated in local government council election.
Another APC party agent who spoke under anonymity at Ward A, Unit 036, Buowo/Owotutu, Ladi-laki Bariga, said the election was free and fair and was happy with the outcome of the result at the ward.
"I am happy with the results in my ward. You can see that there has been no argument about the election here.
"Our people comported themselves and the election was free and fair as it went so smoothly," the party agent said.
Vanguard reported that blood bath was averted at Mulero area of Orile Agege following attempts by some thugs to invade polling booths and kidnap election officials, in a bid to snatch ballot boxes.
The Lagos State Independent Electoral Commission (LASIEC) says results of Saturday's local government election in the state will be declared at the ward and local government levels.
Retired Justice Ayotunde Phillips, the Chairman of LASIEC, said this while briefing newsmen on Saturday after touring some polling units in Lagos Mainland Local Government Area and Yaba Local Council Development Area. (LCDA).
Phillips said winners of chairmanship elections would be declared at the Local Government Collation Centres, while winners of the councilorship polls would be declared at the Ward Collation Centres.
"For the chairmanship candidates, results will be declared at the local government levels, while for the councilors, it is going to be at the ward level. We don't announce results in LASIEC," the chairman said.
She said the results were projected to start turning in by Sunday afternoon.
The Lagos State Independent Electoral Commission (LASIEC) says turnout of voters in the ongoing local government election in the state is satisfactory, "but not excellent".
Retired Justice Ayotunde Phillips, LASIEC Chairman, said this while briefing newsmen on Saturday after touring some polling units in Lagos Mainland Local Government and Yaba Local Council Development Areas (LCDAs).
"The response is very low, there is still a lot of voter apathy. However, in the Yaba area, it was explained to me that a lot of people are new residents and they have not registered in their new residence, that was why they could not vote.
"May be when INEC updates the voter register, we will have a better response. Very few of the polling units opened at 8 a.m. as they were supposed to. Most of them opened between 8:30 a.m. and 9:30 a.m., which I have noted.
"A lot of administrative hiccups here and there. Largely, at least, we are here now, and people, who want to vote, are voting.
"So far, it is satisfactory, it is not excellent or good, but it is satisfactory," Phillips said.
The chairman said that voting would not be extended beyond 3 p.m. as scheduled, "despite the apathy".
Phillips said that the commission had not done enough on voter sensitisation, saying "obviously, we need to do more."
On hitches, Phillips said that the commission had a situation room in LASIEC which addressed problems as they occur.

Election officials handling the ongoing local government polls in Lagos State have abandoned the card-readers and resorted to manual accreditation of voters, the News Agency of Nigeria (NAN) reports.
Our correspondents covering the exercise across the state report that most card-readers deployed to the polling units did not function, a situation that created apprehension among voters, security personnel and election officials.
At the Okota-Isolo/Oshodi Local Council Development Area, the card reading machine kept fluctuating, forcing the election officials to abandon it.
At polling unit 0-29, Ward F-4, Adekunle-Araba Junction,
some voters were uncomfortable with the non-usage of the card readers and protested, but election officials explained that they resorted to manual voting because the readers were not functioning.
An electoral official, who craved anonymity, told NAN that he resorted to the manual voting "to do my job".
"I do not have the authority to speak on the issue, but I couldn't have left the job undone just because of the card-readers when I had other options.
"The card readers have been without network since morning, so I was left with no option. I did not want to waste the time of my voters," she said.
According to her, every voter is required to use the manual process, especially those that were properly accredited and registered in the ward.
"Once the name of such voter is verified from the records, he or she puts down his complete details in the form provided, and is allowed to cast his vote," she said.
Some party agents at the polling unit told NAN that they had objected to the manual voting but had to accept the fact that it was the last option.
A voter, Mr Femi Olawuyi, said that he had also been at the polling unit since morning and had cast his vote already without the card readers.
"I think we are even better off without the card readers.
"We had to resort to the manual voting; our records are valid, so we didn't have any problems casting our votes," he said.
Mr Rasheed Ajose, a politician in Onota-Isolo, said the electoral process was smooth and peaceful.
According to him, the grassroots process of politics has enabled all stakeholders to do their home work in good time and with right resources available to them.
"Personally, I'm proud of the level of election process and we hope we can continue this way, though I am not happy that the turnout has not been massive.
"Some politicians easily concede defeat because of the dominance of a particular party in that state, but so far it has been a wonderful election day," Ajose said.
A member of the Peoples Democratic Party, Prince Kingsley Iruonagbe, similarly expressed disappointment over the low turnout blaming it on alleged intimidation of the electorate.
According to him, "the ruling party in the area has the reputation of intimidating voters; this is why they have not turned out well.
"The rulling party is domineering. Its members intimidate the electorate. This is why we have low turnouts, but the process has been a peaceful one," he said.

Some voters at the Okerube Ward B Polling Unit (PU) 025 were sent back to get their nose masks before being accredited to vote in the ongoing election into Local Government Councils in Lagos.
The nose masks are a major health facility to prevent the spread of COVID-19 pandemic.Alhaji Kabiru Omotosho, a voter, who was turned back, said he was not angry over the directive.
"The officers did right by ensuring that COVID-19 protocols are adhered to.
"I was asked to go back; I don't know how and why I forgot to bring my nose mask. May be I was anxious and excited to vote.
"The officials did right by reminding us. The election is going as it should," he said.
Mrs Idiat Ajibike, a businesswoman, told NAN that she didn't plan to buy a nose mask but was forced to, as there was no choice.
"If not that I just want to vote, I would have just gone back. I don't like the fact that I must buy something against my wish."Walking back home is not an option because my place is far from here," she said.
An electoral officer, who preferred anonymity, said that there was enough publicity about the need for voters to come with their nose masks.
"This is typical Nigerians' attitude. They don't pay attention. By now, we all should be used to using this nose mask all the time.
"Imagine if there are no security agents around, some of them will insist that we must allow them to vote without it," she said.
Malam Abdurasak Isah, who has a kiosk nearby, told NAN that business was booming with many people rushing to buy nose masks.
"I will soon run out of stock. If I knew there will be high demand, I would have bought plenty, but I am glad I made sales. I have had these nose masks for months now.
"I am enjoying the patronage," he said.
NAN reports that turnout has been slow, with many Lagos residents going about their normal activities unperturbed.
One such resident, Mrs Olaseni Idowu, a food vendor, said that she cooked so that electoral officers won't get hungry while working.
"I know that sales will be good today; a lot of people won't cook today, so I want to take advantage of today.
"Hunger is not friendly; some of us have to cook," she said.
Elections into the 20 Local Government Areas (LGA) and 37 Local Council Development Areas (LCDA) of Lagos State took off on a slow start at polling centres across the state.

Some officials of the Lagos State Independent Electoral Commission (LASIEC) have blamed their late arrival to polling units on the non-availability of card-readers.

Source: News Agency of Nigeria (NAN)
Yiaga Africa's #WatchingTheVote findings revealed that as at 10am, only 25% of polling units are opened for accreditation and voting.

As at 11.45am, 65% of polling units are YET to open for the LGA and LCDAs election in Lagos State.

Source: NotTooYoungToRun @YIAGA
LASIEC officials arrived polling unit 015, Ward C, Surulere LGA, at 9.40AM. Citizens at the neighborhood are seen providing support with set up of the polling unit.

Source: NotTooYoungToRun @YIAGA
Meet the LASIEC officials:

Hon. Justice Ayotunde Adeyoola Phillips – Chairman
Dr. Olubunmi Omobamidele Omoseyindemi – Commissioner

Chief (Mrs) Sekinat Toyin Ibrahim- Famakinwa – Commissioner
Mr. Olusegun Fasu Ayedun – Commissioner
Prof. Gabriel Olatunde Babawale – Commissioner
Dr. Noah Lawal-Jinadu – Commissioner
Mr. Ajibade Samson Olusegun – Permanent Secretary
Names Of Local Government / Local Council Development Areas And Wards In Lagos State
S/N
LGA/LCDA
WARDS
TOTAL
1
Agbado/Oke-Odo
OKIOKE-ODOABORUABULE EGBAAGBELEKALEALAGBADO / ALAKUKOAJASA / AMIKANLE
7
2
Agboyi/Ketu
BAMGBE / ELEBIJUAROWOSEGBE / ALAPEREAGIDI / OSHOGUNERUKAN / ORISHIGUNAGBOYI 1AGBOYI 11ODO-OGUN / AJEGUNLE
7
3
Agege
DopemuPapa Uku/OlusanyaAwori/OniwayaAtobajeKekeSangoIsale Oja
7
4
Ajeromi Ifelodun
AlayabiagbaAiyetoroAJEGUNLEAWODI-ORATOLUTEMIDIREALAKOTOIBAFONOLUWA
9
5
Alimosho
OMITUNTUN-OLORISANTOS / ILUPEJUAKOWONJO / ILUPEJUOGUNTADE / BAMEKEEGBEDAALABATAALAGUNTAN
7
6
Amuwo Odofin
Eko AketeOdofinIfelodun (Festac 111)Orire (Festac11)Irepodun (Festac 1)Ado (Festac)TOMARO ILADO
7
7
Apapa
ODUDUWAAPAPAABRAHIM ADESANYAANJORINIJORA
5
8
Apapa Iganmu
GASKIYASARIOWOSENIABETEBADIAMARINE BEACHALAFIA
7
9
Ayobo-Ipaja
BADA-MEGIDAAYOBOIPAJAATANBARUWA
5
10
Badagry
PosukohJega QuartersAwhanjigohAhouikohAjara UkthoAjara TopaAjidoIsalu / IyafinIkogaTopo-Idale
10
11
Badagry West
KWEMEWESEREAPAAKOROGBETHROME
5
12
Bariga
IBUOWO / OWOTUTUAIYETORO / MAFOWOKUOWODE / ORILEAKOKA / ANU-OLUWAPOPEDRO / GBAGADAAPELEHINILAJESERIKI-OKUTA
8
13
Coker/Aguda
COKERIRONENURU ONIWOJINADU AIYETOROBALEOSHOSAVAGE
7
14
Egbe/Idimu
ISHERI-OLOFINUNITY ESTATEIDIMUEGBE-AGODOEGBE-LIASU
5
15
Ejigbo
AIGBAKAFADUIFOSHIILAMOSHEAILEGUNOKE-AFA
6
16
Epe
BADO/EBODE/ETITA IBERIKODOAIYETORO / LAGBADE / AGBALA / OLOTASAGIDA / OKEPOSUISALE AGORO/ OKE BALOGUN/ OGUNMADE ERESEAJAGANABEPAPAMAYUNRE-ORIBA / OREPETE-ITO OMUOLUGBOKERE / ABOMITI
8
17
Eredo
ILARAIBONWONODORAGUNSHINNAFORIJA / POKAODOMOLA
5
18
Eti-Osa
IKATE / LEKKIAJIRAN / OSAPAMAROKO / OKUN ALFAIGBO-EFON / MAIYEGUNILASAN / ORIRE
5
19
Eti-Osa East
AJAHSANGOTEDOADDO / OKEIRABADORE / LANGBASAOKUN AJAH / OKUNMOPO
5
20
Iba
IBAOKOKOMAIKOAJANGBADIIGBO ELERINKEMBERI
5
21
Ibeju/Lekki
IBEJU 1IBEJU 11ORIMEDU 1ORIMEDU 11ORIMEDU 111IWEREKUN 1IWEREKUN 11
7
22
Ifako/Ijaiye
IJAIYE OKE-IRAIFAKO PELEIJAIYE / IFAKOIFAKO / COKERIJU OBAWOLEIJU ISAAGAIJU OGUNDIMU
7
23
Ifelodun
LAYENIOWOYEMIALABAAMUKOKOOKE OJAOJORAAPASA
7
24
Igando/Ikotun
IKOTUNABARANJE / OKERUBEISHERI OSHUNIJEGUNIGANDOEGANAKESAN
7
25
Igbogbo/Bayeku
ABOSANMOKUNBAIYEKU/ORETA/OFFINIBESHEELEPE
5
26
Ijede
Egbin / ItunoliwoAyegbami / OdoroOke-Oyinbo / AiyetoroOke-Eletu / Abule Eko
4
27
Ikeja
ORILE IKEJAALADEONILEKEREANIFOWOSHESERIKI – AROALAUSA
6
28
Ikorodu
OLORI / EYITAAIGE / SOLOMADEISELE WARDITUN PATE / ITUMAJAAGA / IJOMUSHOLAFUN / AGBELEAGURA / GBERIGBE
7
29
Ikorodu- North
30
Ikorodu West
31
Ikosi Ejinrin
32
Ikosi/Isheri
33
Ikoyi Obalende
34
Imota
35
Iru-Victoria Island
Tarkwa Bay
Victoria Island
Kuramo School
Apese / V.I Extension1004 / Aboyade
5
36
Isolo
37
Itire/Ikate
38
Kosofe
39
Lagos Island
40
Lagos Island East
41
Lagos Mainland
42
Lekki
43
Mosan/Okunnola
44
Mushin
45
Odi-Olowo/Ojuwoye
46
Ojo
47
Ojodu
48
Ojokoro
49
Olorunda
50
Onigbongbo
51
Oriade
52
Orile/Agege
53
Oshodi-Isolo
54
Oto/Awori
55
Shomolu
56
Surulere
57
Yaba
Adekunle / AiyetoroMakokoOnike / Oyadiran
3
All three Polling Units around Kilo Bustop Surulere are yet to open as no electoral official visible.

Source: NotTooYoungToRun @YIAGA [Twitter]
9.04am, LASIEC officials arrived at PU 006, Ward B, LGA primary School Ibereko II, Bagagry LGA.

Source: NotTooYoungToRun @YIAGA [Twitter]
Over 6 million registered voters, over 13,000 Polling Units across 245 wards in 20 LGAs and 37 LCDAs!!

Source: NotTooYoungToRun @YIAGA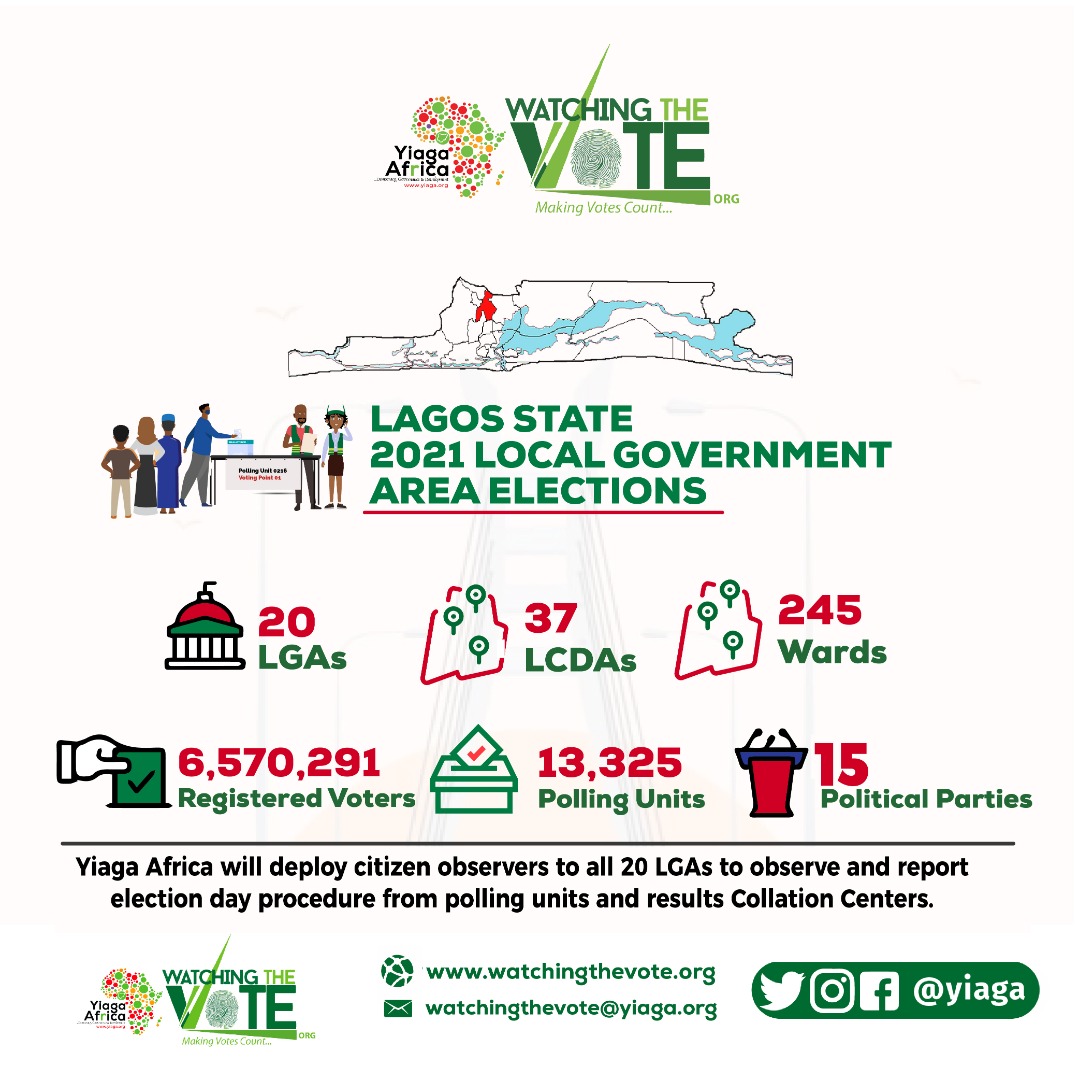 As at 8.30am, Shomolu election officials are still at the Registration Area with Distribution of election materials ongoing.

Source: NotTooYoungToRun @YIAGA
At 8.16am, LASIEC officials arrive at PU 022, Ward E, Ajara Grammar school, Badagry… Set-up underway ahead of Commencement of accreditation and voting for today's LGA and LCDAs election.