'Arresting Nnamdi Kanu has not stopped kidnapping in the North' – Rev Father Mbaka says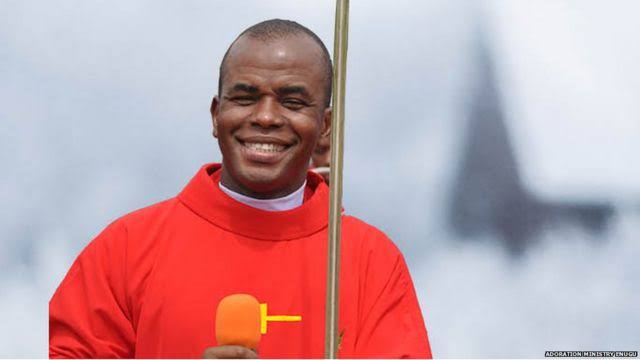 The Spiritual Director, Adoration Ministry Enugu, Nigeria, Rev Fr Ejike Mbaka, has called for the release of leader of the proscribed Indigenous People of Biafra, Nnamdi Kanu.
The Catholic priest made the call during a sermon on Sunday, at his adoration ground.
He said, "Some persons came to me some time ago that they have two slots for me. I told them I don't need such offers because I have a slot that I need. They said I should mention what I need.
"My first request was that they should release Nnamdi Kanu because since you people arrested him, we have lost many lives, so of what use is his arrest if after he was arrested, kidnapping hasn't stopped in the North? Arresting him doesn't solve the problem."
"Where were the nation's security agencies when several students were kidnapped?" he asked while urging the government to use the same energy used in arresting Kanu to arrest kidnappers."
"Has anybody seen Kanu kill anyone? Kanu is not a murderer. Have you caught him with guns? Why arrest someone who has never kidnapped anyone? Our land must yield an increase. Kanu is not herdsmen, kidnappers, or bandits, or Boko Haram. He does not carry ammunition and he is not even an unknown gunman. My job is to say what the spirit asked me to say.
"If you use the same aggression you deployed to arrest Kanu to address terrorism, things will change. It would help if you used the same temerity to address poverty, herdsmenism, injustice, corruption, and unhealthy tribalism. I am for truth and justice.
"I cannot support terrorism. There is agitation everywhere. All the men of God are agitating silently. The police and the army are agitating. Do you blame them? If they talk, they will be killed. In the mosque, there is agitation. You don't arrest the agitation. You arrest the cause of it. People are hungry and angry. Millions are idle and an idle hand is the devil's workshop.
"If Nigeria is doing very well, will Kanu emerge? I am for justice, equity and fair play. Look at what is happening in the North, the north is finished." the clergyman stated.
Kanu, who is facing an 11-count charge of treason, treasonable felony, terrorism and illegal possession of firearms, among others, jumped bail in 2017 and left the country.
The former London estate agent disappeared in 2017 after being released on bail, only to re-emerge in Israel and then in the United Kingdom.
Kanu was extradited to Nigeria on Sunday, June 27 to face trial as announced by the Attorney-General of the Federation, Abubakar Malami.
He was re-arraigned before a Federal High Court in Abuja on Tuesday, June 29 and ordered to be remanded in the custody of the DSS, while the case was adjourned till July 26 and July 27.