Femi Adesina says 'PDP is being ravaged and savaged politically'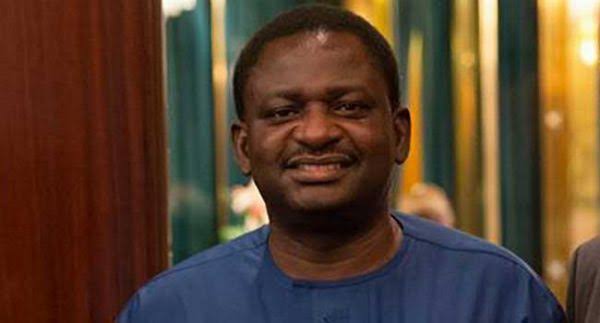 Special Adviser to the President on Media and Publicity, Femi Adesina, says the opposition People's Democratic Party PDP could cease to exist by 2023
According to him, APC ended the 16 years dominance of the Peoples Democratic Party (PDP) when President Muhammadu Buhari made history as the first opposition candidate to defeat an incumbent president in an election.
In his weekly opinion piece published on Friday, the presidential spokesman said the PDP was able to make some inroad because of the "implosion" within the party
However, he said the ruling party is now on course, buttressing his point with the defection of some PDP governors to the APC.
The article partly reads:
"PDP is being ravaged and savaged politically, and if care is not taken, the Party could become an empty shell before 2023. The vessel is leaking, and taking in water massively. It may have to scream May Day, May Day soon, and evacuate.
"The irony of it all is that whenever the PDP is making gains politically, all is jolly well and good. But when it suffers reversals, then democracy is threatened in the country. In 2015, by the time the dust of general elections settled, the All Progressives Congress (APC) had 24 Governors. PDP had 12, and All Progressives Grand Alliance (APGA) had one. PDP, which had always vaunted itself as Africa's largest party, threatening to rule us for minimum of 60 years, was looking like King Lear at his worst.
It had been knocked off its perch at the national level, also in many States, and its snout yanked from the country's honeypot. It was terribly unhappy.
"By combination of schism, implosion and explosion, APC did not manage its success well. By 2019, the number of its governors had dwindled to about 19. And PDP was reaping the harvest. But APC retooled, got itself straightened out, and returned to winning ways. Gov Dave Umahi of Ebonyi State ported into APC. Followed by Ben Ayade of Cross River. And now Bello Matawalle of Zamfara State.
APC is equally swelling in terms of lawmakers and membership, both at the Federal and State levels. The winner takes it all, the loser standing small."
Taunting the PDP further, Adesina added, "With the way things will turn out in the months ahead, one political party will wax stronger and stronger, while the other one will wax weaker and weaker. A third force may be unlikely before 2023, at least not in a way to make much impact.

Can the PDP come in from the cold? Doubtful. It may do well then to get blankets, very thick ones, as the chill bites harder."