Nasarawa Workers'Strike: Governor says 'no work, no pay'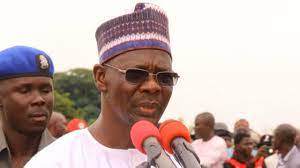 The Nasarawa State Governor Abdullahi Sule said that his government is invoking the no-work-no-pay rule for striking civil servants in the state.
This was part of the resolutions taken at an emergency expanded security meeting, which was held at the Government House, Lafia the State Capital on Tuesday.
The emergency meeting was convened at the instance of Governor Abdullahi Sule, aimed at an amicable resolution of the plight of the striking workers.
According to the statement issued at the end of the meeting, signed by Barrister Mohammed Ubandoma Aliyu, Secretary to the Government of Nasarawa State, while government recognizes the right of workers in the state to embark on strike, it however enjoins the organized labor to carry out its activities within the confines of the law.
The state government expressed dismay over the action embarked upon by the organized labor, especially the indefinite strike action, as well as the picketing of offices, thereby depriving workers of gaining access to their offices.
The statement added that the government has directed permanent secretaries at the various ministries, departments, and agencies, to open attendance registers, to actualize the no-work-no-pay rule.
While also expressing its desire for continuous dialogue with the organized labor in the state, the statement went on to say that, the government has however directed security agencies to deploy its personnel to man all MDAs, to restore law and order.
The Nasarawa State government said it will also seek legal interpretation of the action embarked upon by the organized labor at the law courts.
Recall that Organised Labour in the state had begun an indefinite strike action from Tuesday, June 15, over the partial implementation of N30, 000 minimum wage and other welfare-related issues.
The strike was declared on Monday in Lafia after the State Executive Council (SEC) meeting of the labor movement in the state.