Flash! Old video of Radio/TV host, Ahmed Isah assaulting a man resurfaces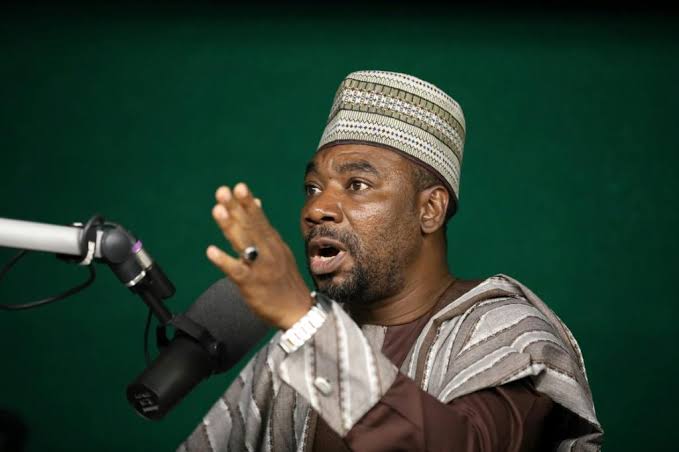 An old video of human right activist and broadcast journalist, Ahmed Isah assaulting a man has resurfaced on social media.
In the video dated October 19, 2020, Isah also called Ordinary President by his fans was visibly angry, was seen interrogating a young man who claimed he was collating the names of people for the Corporate Affairs Commission's registration.
Isah in the video first published by Sahara Reporters, asked the young man, "You gather people and write their names?"
The young man replied, "I do not gather people, I came for CAC registration. You made an announcement this morning that there are people who dupe others based on the registration. As I came and saw that people were complaining about the cancellation of the registration, so we suggested that this Gwarimpa ward will go by people that are present here so we put their names here. I came here for the CAC, I am not the only one writing names there. I am the only here for the CAC registration, not Survival fund."
But in the midst of the interrogation, Isah paused and hit the man on the face.
Isah then asked, "Who commissioned you to write their names? Do you work for the CAC, or presidency or Chairman of the local government, who sent you?"
But as Isah slapped the man, the camera's focus was immediately shifted elsewhere and did not capture Isah's facial expression properly or that of the assaulted young man. However, some people in the audience had stood up, probably to calm Isah down.
Isah has been under fire since the BBC Africa Eye exposed how he assaulted a woman who appeared on his show.
The woman, who was accused of setting a young girl's hair on fire over witchcraft allegation, had feigned ignorance when Isah questioned her.
After several attempts to make her own up ended in futility, Isah slapped the defenceless woman in front of his audience.
He was been invited by the police for questioning but no details were given on what transpired while he was with the police.