House of Reps makes u-turn, promises to hear motion for Pantami's resignation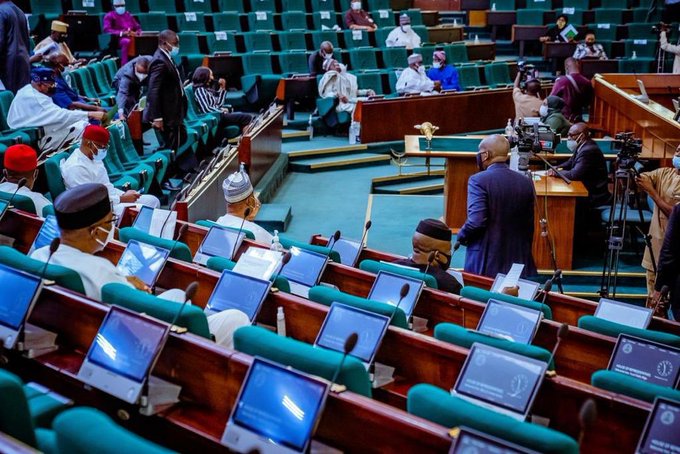 The House of Representatives said it will hear the motion of Minority Leader Ndudi Elumelu for resignation of Minister of Communications and Digital Economy, Dr Isa Pantami, when it is properly presented before it.
Pantami is currently facing scrutiny over his past utterances in support of terrorist groups such Al-Qaeda and the Taliban, with many calling for his resignation.
Spokesperson of the House, Benjamin Kalu, who represents Bende Federal Constituency, in a statement in Abuja on Friday, said media reports Speaker Femi Gbajabiamila blocked Elumelu's motion demanding Pantami's resignation was a misrepresentation of facts.
The statement reads: "The House is aware of several publications on online and traditional media claiming that the Speaker of the House, Rep. Femi Gbajabiamila, blocked a motion by the Minority Leader of the House, Rep. Ndudi Elumelu purportedly demanding the resignation of the Minister of Communications and Digital Economy, Isa Pantami.
"This misrepresentation of facts for the sake of sensationalism has necessitated this statement of clarification.
"For the avoidance of doubt, the House is guided by the Standing Orders of the House of Representatives (House Rules) in its operations and administration.
"In this case, the Minority Leader should have known better than to present such an issue for debate via Order 6 of the House Rules which only applies to Legislative Privileges.
"He ought to have come under Order 8 Rule 4, as a matter of urgent national importance, or via a motion on notice to enable other members second the motion and make their contributions through debate in true democratic fashion, after which the House would be able to take a position on the issue.
"It is therefore pertinent to inform Nigerians that the House has not acted in error, but in line with the provisions of its rules. All insinuations that the House did not allow democratic debate to take place on the important issue of Pantami's resignation are simple untrue.
"The House acknowledges the severity of the issue and its nature as a matter of public concern.
"As always, the House stands ready to give audience to Rep. Elumelu or any other member of the House on this issue, provided that such audience is sought through the proper channels and brought under the relevant rules of the House."
peaking at plenary on Wednesday, Elumelu said: "Mr Speaker, my privilege border on one of the serving ministers called Sheikh Ali Isa Ibrahim Pantami. He is the Honourable Minister for Communication and Digital Economy of the federal republic. And the portfolio that he currently occupies give him the free latitude to administer, coordinate and manage the flow of sensitive information within and outside the shores of Nigeria.
"And Mr. Speaker, there have been insinuations that he has direct links and personally subscribes to the extreme Islamic believe of Al-Queda, Taliban and Boko Haram sects. Evidence compelling the cyberspace lays strong credence to a relationship and existing mutual collaboration between him and the deceased Yemen terrorist. Recently, Mr Speaker, while the minister was answering questions during his daily Ramadan lecture, a few days back, he owned up that he took extreme positions in support of the brutal exploits of Al-Queda and the Taliban out of ignorance, claiming that he was young when he did that, but now he is matured.
"Mr Speaker, my worry is that I am a serving member of this chamber and in the last few days, I have been inundated with calls from my constituents claiming that if it is right, that this House they have always seen talk about insecurity can sit down on this floor and tolerate the fact that a serving minister where there are allegations of him being a member of Al-Queda and Boko Haram, owned up and said that he did whatever he did at that time because at that time he was youth and he is still serving in this administration.
"Mr Speaker, I feel it will be out of place for me to sit here and allow this chamber and not to speak about it and totally call for his resignation or suspension."
Elumelu's submission, however, was vigorously opposed by House members from Northern part of the country. Amid the controversy, House Speaker, Gbajabiamila struck out the motion.