'You are our leader' Fayose apologises to Governor Seyi Makinde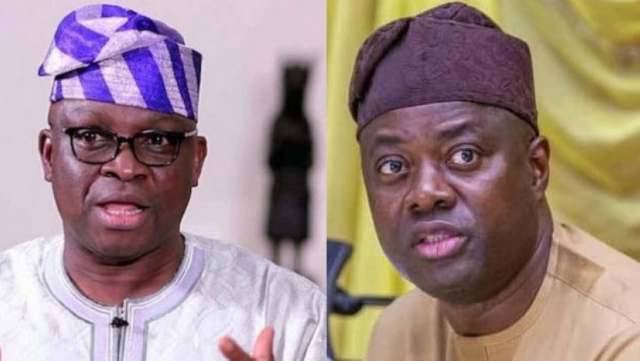 Former Governor of Ekiti State, Ayo Fayose made a stunning admission at the PDP South-West zonal congress in Osogbo, Osun State, on Monday when he declared Governor Seyi Makinde his leader.
The duo have been at loggerheads over who is in command of the southwest PDP and their conflict had headlined the convention.
But making a surprising u-turn, Fayose declared "Seyi Makinde is my leader. He is our leader and remains our leader. Enemies should not come in between us because we are one.
"The burning issue in PDP is circumstantial. Who is our leader? Seyi Makinde is our leader. Prince Olavunsoye Oyinlola is our leader. Segun Oni is our leader and whatever the outcome of the elections may be, I will accept it in a good manner.
"If I have offended anybody in the party, I beg for forgiveness and whosoever that might have offended me, I have forgiven them also. If Arapaja wins the election, I will be the first person to go to him and congratulate him on his victory.
"Though, he had tongue-lashed me time without numbers but despite that, I will still rejoice, dine and wine with him if he wins. We are one family and our unity should be paramount in our minds."
Reacting to the declaration of Fayose, Makinde said the congress was a family affair and all fractions of the party should unite after the event.
"We are to reposition the party and whatever the outcome, it will be taken as family affairs. At the end of the exercise, there will be no victor, no loser and whoever that wins will have my support and I will work with him."