£4.2 million Ibori loot to be used for the construction of second Niger Bridge, other projects – Malami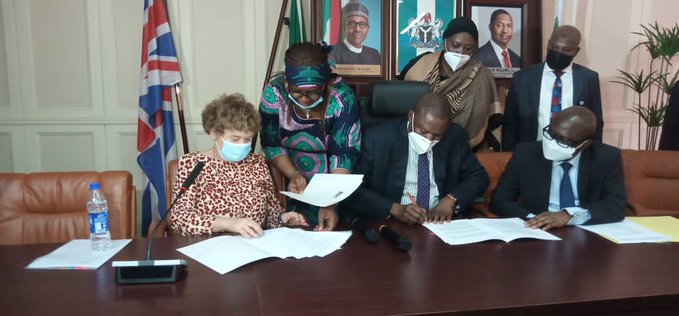 The Attorney General of the Federation and Minister of Justice, Abubakar Malami said the £4.2 million looted by former Delta state governor James Ibori and returned to Nigeria, will be used for the construction of the second Niger Bridge, Abuja-Kano road, and Lagos-Ibadan Express road.
He made the announcement as the United Kingdom signed a Memorandum of Understanding to return the sum of £4.2 million of stolen assets stolen by the ex governor.
He said a reputable civil society has been incorporated to monitor the use of the funds for the ongoing projects.
"I am confident that both the Nigerian and British governments remain committed to all affirmative actions to combat corruption/illicit financial flows, ensure that looters do not find comfort or save haven in our territories and also to guarantee that the forfeited or recovered proceeds of corruption are deployed to the benefit of the masses.
"Hence, in consonance with existing framework or model engaged in the management of previous recoveries, the Federal Executive Council under the able leadership of President Muhammadu Buhari has directed that the instant repatriated funds should be deployed towards the completion of the following legacy projects: the Second Niger Bridge, Abuja – Kano expressway and the Lagos – Ibadan expressway under the coordination of the Nigeria Social Investment Authority (NSIA) to ensure integrity of the process while a reputable Civil Society Organization has been engaged to monitor/supervise the expenditure of the recovered funds on the execution of these critical projects which are evenly spread across the country." He said.
The signing was done on Tuesday by the British High Commissioner to Nigeria, Catriona Laing in Abuja, the nation's capital.
The British high commissioner said the money was recovered from friends and family members of the former governor.
She frowned that many Nigerians were in the habit of siphoning money from the country to the UK, saying that has also affected the level of trust between the two countries.
Laing however warned that the UK will no longer be used as a destination for looters to siphon proceeds of crimes.