COVID-19: Kano Governor says closing down schools will be a 'tragedy'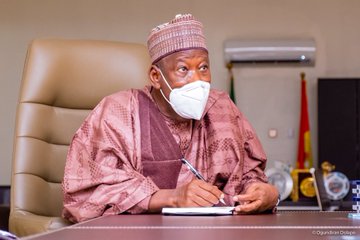 Estimated Reading Time: 1
The governor of Kano State, Abdullahi Ganduje, says it will be a "tragedy" to close down schools to curtail the spread of COVID-19.
According to a statement by Abba Anwar, chief press secretary to Ganduje, the governor stated this on Friday at a meeting with members of the Nigeria Union of Teachers (NUT).
Ganduje said the closure of schools would drag the education system backwards, adding that such a move may not prevent pupils and students from contracting the virus.
"There is a dire need to fight the pandemic, but people should clearly understand the repercussions of certain actions in the process," he said.
"The issue is not that of closing schools. When you close schools, it is another tragedy, because if you close schools with the intent that you take students away from COVID-19, the same pandemic is capable of following them into their respective homes.
"Closure of schools would take students and the system of education back again. It is because of this that we exempted teachers from staying at home, unlike other civil servants whom we ordered must not come to work, but stay at home."
the governor noted that the state would also adopt new measures to curb the spread of the virus when President Muhammadu Buhari approves the recommendations sent to him.
"We gave some recommendations to the president on our approach in the fight against the COVID-19 pandemic. When those recommendations get the president's nod, some measures would be taken in the state to quickly tame the pandemic, as was done in the first experience," he said.
Ganduje urged parents to make sure that their children always comply with the COVID-19 protocol.
According to the Nigeria Centre for Disease Control (NCDC), as of January 22, Kano has confirmed 2,730 coronavirus infections, out of which 2,332 recoveries and 73 deaths have been recorded.