Cross River Govenor's aide accused of burning 'witches', embroiled in alleged assassination attempt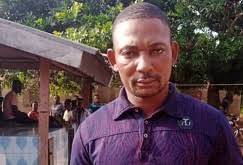 Estimated Reading Time: 3
An aide to the Senator Ben Ayade, the Governor of Cross River State on Forestry, Thomas Obi Tawo, who was last year, alleged to have set on fire some persons accused of being witches in Boki, has again been accused of attempting to kill fellow government appointee.
Mr Thomas Onabe, a Commissioner II in the state Civil Service Commission, is accusing Obi of attempting to assassinate him attempted and that he barely escaped with bruises and damage to his car.
Speaking to newsmen in Calabar about the incident, Thomas Onabe said that the Special Adviser on Forestry had invited him for a meeting in his house on December 30th in Oku community in Boki Local Government.
"When I got to Oku, I called the close lieutenant to the Special Adviser, Mr Destiny Ogar, who is also Oku/Borum/Njua PDP Ward Secretary to put him on the know that I was in the Special Adviser's house for the meeting.
"When the Special Adviser came and met me in his house, including the Ward Chairman and the Personal Assistant on Administrative Matters to the Governor, Mr Paul Otu, he greeted me and went straight into his house.
"When he came out, he threatened to kill the Ward Chairman, and I told him not to say that again because he is also a member of our party, the PDP.
"Immediately I made that statement, he told me too that I was not safe in his house, saying that my entry into his compound today would be my last day on earth. I became scared at that moment.
"He started bullying me up and down. When I wanted to react, I sighted his boys around, carrying AK47 rifles and the Destiny Ogar, who is the ward Secretary that brought him on a bike was also holding a pistol.
"I couldn't resist further, neither did I allow my boy to join me, so that it won't be seen as if I came to fight him in his compound.
"With God on my side, I was able to escape after he has given me several injuries. I was in a pool of blood and my clothes were all torn. I ran to my car for safety and he now used a big rod to struck on it and in the process, he destroyed my back windscreen.
"We actually have not had any quarrel in the past. He is struggling to be the leader of the ward. When he perceive that you are rising above his decisions, he will go after you; I happen to be the unfortunate one this time," he said.
The Commisioner II pleaded with the Govenor and law enforcement agents to intervene, as people leaving in Oku community are afraid of their lives.
"The state government should urgently move in and intervene on this matter, including security agencies, because he is doing all these and going untouched," he said.
Efforts to reach Thomas Obi for his reaction was not successful as his number was not available.
Thomas Obi, popularly known as 'General Iron' is a former militia leader who led an armed resistance against the state government from his local government of Boki. Obi laid down his arms and joined the Cross River amnesty program in 2018 and was made an ambassador of peace by the state.