Buhari is afraid of facing the National Assembly- Uche Secondus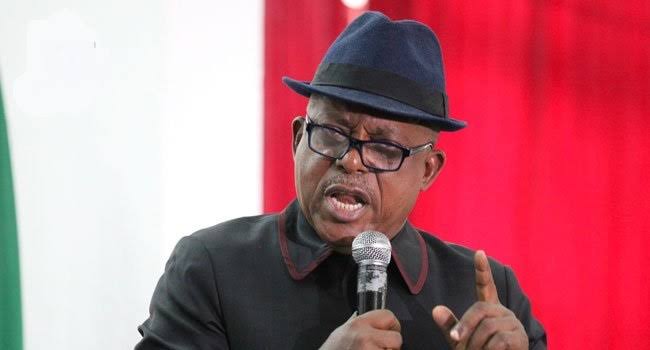 Estimated Reading Time: 1
The National Chairman of the Peoples Democratic Party, Uche Secondus, says President Muhammadu Buhari's decision to cancel his scheduled visit to the National Assembly is 'shameful'.
Secondus says he is disappointed that the President, a retired general of the Nigerian Army, was "afraid" to appear before the national assembly to discuss the issue of security.
Secondus said this at a media briefing to commemorate his third year in office, in Abuja, on Thursday.
Secondus said, "This back and forth from the President on a vital issue as security that is overwhelming our nation underscores our position as an opposition party that nobody is in charge and that this is a broken government.
"Disregarding the nation's parliament is disregarding the Nigerian people because they are representatives of the people. The truth which is worrisome is that the President either does not know what is happening or does know what to do otherwise he should not be afraid to face the people."
Recall that the House of Representatives led by the Speaker, Femi Gbajabiamila, had last week invited Buhari over the rising insecurity and the killing of over 43 farmers in Borno State.
Presidency sources including an aide to the President, Lauretta Onochie, had revealed that Buhari would appear before a joint session of the National Assembly on Thursday. However, reports began to filter in on Tuesday that the President had decided not to attend the meeting any longer.
The APC caucus had met Tuesday night behind closed doors. Previous reports on the meeting's agenda had revealed that the APC Governors prevailed on the President not to visit the National Assembly as a result of the uncertainty surrounding the actions of the opposition lawmakers, especially from the PDP.
On Thursday, the president did not attend the joint session. NewsWireNGR reported that the Attorney-General of the Federation, Abubakar Malami (SAN), said the National Assembly lacks the power to invite the President Muhammadu Buhari to speak on security matters.