Stan Chu Ilo: The Zabarmari Rice Farm Massacre, Why we Cannot be Silent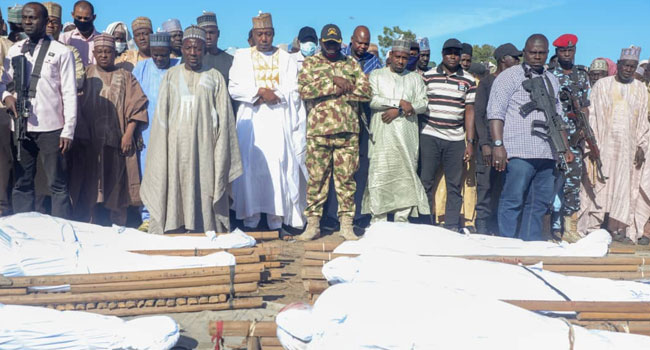 Nigerians and the rest of the world woke up on Sunday morning to the sad news of yet another gruesome massacre of fellow Nigerians by suspected Islamic terrorists. According to the United Nations, in the early afternoon on 28 November, local time, suspected militants attacked civilian men and women while they were harvesting crops in Koshobe village and other rural communities in Jere Local Government Area, near Maiduguri, Bornu State. These 43 brothers and sisters of ours were all beheaded. The UN originally reported that 110 people were killed in this barbaric attack, but later the UN retracted its report and simply indicated that many people have been killed, some others including women have been abducted, and many others are unaccounted for. No one knows exactly the number of people killed, human life in Nigeria has become so devalued, and so expandable that we are never sure of the number of people killed in these all too familiar killings. Many of us will remember that after the killing of young Nigerian youth in Lekki by operatives of the state, no one was sure immediately after that terrible crime about the exact number of young people killed or injured.
Edward Kallon, the UN Resident and Humanitarian Coordinator in Nigeria described this recent incident of yet another mass killing in Nigeria as "the most violent direct attack against innocent civilians this year"; while in a statement issued by his spokesperson, UN Secretary-General António Guterres called for "the immediate and safe return of the abductees and those still reported missing." We may never know the number of people killed on that farm; nor will we ever find our missing brothers and sisters, just as we didn't know the number of Chibok girls kidnapped, and how many of them are still missing. This is because we have an irresponsible, and insensitive federal government, and we live in a nation that has accepted violence, gruesome mass killings, and crimes against humanity being committed in the land with impunity without anyone or group being held to account. Already it is business as usual in Nigeria, a day after such a heinous crime was committed in the land. It was not the main news of the day in Nigeria. Life goes on…
What we have heard from President Buhari is his usual empty condemnation after yet another horrible mass killings and dismemberment of Nigerians by Islamic terrorists. My questions to President Buhari are: How can outrage, and prayer for the souls of the departed be a targeted and strategic response to this crime against humanity? What are your plans to bring the perpetrators of this crime to book? What is the plan of the federal government to take care of the many families whose breadwinners and families have been lost in this tragic and inexcusable manner? Why should Nigeria accept the semi-permanence of 830,000 Nigerians living as refugees according to the United Nations Office for Coordination of Humanitarian Affairs (UNOCHA). As the Commander in Chief of the Nigerian Armed Forces, who quickly deployed the military on the streets of Nigerian cities to suppress the peaceful protests of angry and hungry Nigerian youth, why can't our president turn this constant expression of outrage or surprise in the face of crimes against humanity being committed in Nigeria on a regular basis by these terrorists, into a plan and strategy for an effective fight against terrorism, particularly in North-Eastern Nigeria?
The President must admit that he has failed in his primary duty to the country—protecting the lives and properties of Nigerians. What happened on the rice fields of Zabarmari is a crime against humanity. It is not only barbaric, inhuman, and un-Islamic; but it also shows that there are people in this geographical space called Nigeria whose animalistic instincts, hatred for humanity, and basic impulses will never be contained through empty threats by our President or the Governor of Borno State. The expression of outrage by President Buhari is not a military strategy for counter-insurgency nor is a presidential prayer for the souls of the dead an effective surveillance and anti-terrorist tracking response that should be measured and directed at these terror cells. The present security apparatus and counter-terrorism efforts of the nation have also failed our people in Zabarmari and in the entire North-Eastern Nigeria, just as they have failed in Southern Kaduna, Katsina, Benue, and in the asymmetrical terrorist acts being committed by Fulani 'herdsmen' in other parts of Nigeria outside the North.
The federal government must dismantle this present corrupt, ineffective, and highly compromised security apparatus in Nigeria. Interestingly, Buhari has populated the leadership of the entire Nigerian security services with his Muslim kith and kin, which sadly has failed in protecting even their own Muslim brothers and sisters against terrorists. It might not be out of place to also wonder if the Nigerian security apparatus has become compromised and working in cahoots with these terrorists.  If the U.S special forces could effectively carry out a covet assault to successfully rescue an American hostage, held by these husks of humanity, who abuse the name of Islam by associating it with these heinous crimes and unspeakable evils, why can't the Nigerian state do the same?
There are two painful conclusions that I address to my fellow Nigerian citizens and those who are interested in the future of this dying and troubled nation. The first is that this massacre of vulnerable and struggling farmers in the rice farm of Zabarmari should wake us up from slumber on this normalization of violence in Nigeria. The basic architecture of the Nigerian state today can only be understood today as designed and sustained through violence—both structural violence and physical violence as well as excess violence by the state, and violent barbarism by non-state actors. This basic architecture of violence dishes out small deaths, occasional massacres, and mass killings like the one that happened over the weekend. This architecture of violence churns out the semi-permanent death-dealing policies through our officeholders, political systems, structures, and institutions of state designed to benefit the very few, while the rest are left to starve to death and to rummage in garbage dumps or condemned to a life of poverty, low quality of life, inexcusable suffering, mendicancy, and deaths from preventable and treatable ailments.
On the other side of the coin is the non-state actors like the Islamic terrorist groups, Boko Haram and the Islamic State of West Africa (ISWAP), that operate freely across the North-East and beyond, and whose fighters roam freely across the porous borders of the neighboring countries in West and Central Africa like Chad, Mali, Niger, Cameroun, and Burkina Faso. These groups have been growing in number and their attacks have grown more brutal and barbaric under the present Buhari regime for reasons which defy all logic. The main reason Nigerians supported Buhari en masse in 2015 was because he promised to bring back the Chibok girls, defeat radical Islamic terrorism in Nigeria, restore public safety; and law and order in Nigeria while fighting corruption.
On all scores, President Buhari has failed the nation. His government has been a disaster in many ways as Nigerians drown in deprivation and desperation under the crushing weight of the triple Nigerian national pandemics of Covid-19, poverty and radical Islamic terrorist cells which like cancer have metastasized to every part of the country. The frequency of these callous attacks on innocent Nigerians, their increasing barbarism and their soft targets who are usually the poorest and most vulnerable everyday Nigerians is occurring under President Buhari, who is an Army general. The number of Internally Displaced Persons in Nigeria has more than doubled under this administration as many people are fleeing from their homes and living in refugee camps, not only in the North East, but also in Kaduna, Kano, Benue, and Katsina among other places.
If the federal government has any anti-terrorism or anti-insurgency plan it is simply not working. The massacre in Zabarmari is a grim reminder that most of our farmers in Nigeria are no longer safe in their farms. In my home state of Enugu, and my town of Achi, there are reported cases of people being killed in their farms, and in their ancestral homes by so-called 'herdsmen.'  If the government cannot guarantee people's safety even in the sacred space of their own ancestral land, and in their farms, and in their villages why should such a government continue to exist?
The final point here is the need for us to reject this normalization of violence and deaths in Nigeria. It seems that Nigerians and our governments have embraced violence as our normal way of life in the country. I am personally surprised that Nigerians have not shown any outrage following this heinous crime against humanity committed against these hapless farmers in the Zabarmari farm of Bornu State. We can no longer be silent as a people when lives are being wasted this way in Nigeria. We cannot be silent when our young people have become so debased by our neglect and poisoning of their minds that they hate their fellow citizens this way and will heartlessly slit the throats of fellow brothers and sisters in this orgy of violence and thus desecrate our land. We can longer be silent or unconcerned maybe because those who were killed were not from our state, region, religion or ethnic group. We cannot be silent because we have become exhausted at the frequency of these deaths and thus become desensitized to the destructive nature of these terrorist acts on who we are as a people, on the future generation, and on our African cultures and values of life, community, and fraternity.
We cannot be silent when our government, especially our President has failed to protect our lives, while most of our politicians and their acolytes live in gated communities and deploy special security units and private security outfits to protect themselves, while the defenseless masses of our people are  left to die in the hands of these husks of humanity, whose cup of horror is now overflowing. It is in speaking up against these crimes against humanity in Nigeria, and in showing outrage, and in raising our voices to denounce this insensitive and ineffective government that is responsible for the worst economic calamity that most of us have seen in our generation both in the first Buhari regime and in this painful second regime, that we can find hope for the future out of this necropolis (a land of deaths) that Nigeria has become.
There is so much suffering, violence, and death in Nigeria. The majority of Nigeria's young people are out of school and out of work; our healthcare workers and teachers have not been paid salaries for months. Poverty is spreading like wildfire in Nigeria, and nothing seems to be working in the country, while the national life has become a tale of doom and gloom as Nigerians suffocate under the punishing weight of the triple pandemic and of structural violence built on systemic and unjust structures, terrorism, and police brutality. This is why Nigeria has become a land of the dead, where dead bodies are common sites. These victims of the Zabarmari farm massacre are yet another collateral damage of our failed and dying polity. Cry, the beloved country.
_______________________________
*Stan Chu Ilo is a Catholic priest of Awgu Diocese in South-East Nigeria, research professor of World Christianity and African Studies at DePaul University, Chicago, USA; Honorary professor of Theology and Religion at Durham University, Durham, England.
Disclaimer
It is the policy of NewsWireNGR not to endorse or oppose any opinion expressed by a User or Content provided by a User, Contributor, or other independent party. Opinion pieces and contributions are the opinions of the writers only and do not represent the opinions of NewsWireNGR