Umahi left PDP because he wants to be President; Wike says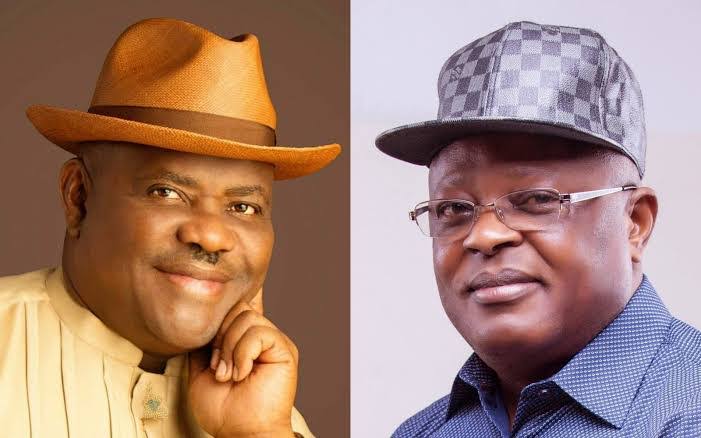 Estimated Reading Time: 2
Rivers State Governor, Nyesom Wike, has reacted to reports that his Ebonyi State counterpart, Governor David Umahi, leaving the Peoples Democratic Party (PDP) for the ruling All Progressives Congress (APC)
The Ebonyi Governor had told journalists in Abakaliki on Tuesday that he had no regrets leaving the PDP. According to him, he moved to the APC because of "injustice" meted out to the South-east by the PDP.
" I offered this movement as a protest to injustice being done to South-east by the PDP. Since 1999, the South-east have supported the PDP. At a time the five states were all PDP. One of the founding members of the PDP was from South-east, the late former Vice President, Alex Ekwueme.
"It is absurd that since 1999 going to 2023, the South-east will never be considered to run for presidency under the PDP. And this is my position and will continue to be my position. It had nothing to do with me or my ambition," Mr Umahi said.
Responding to the defection, Governor Wike said Umahi left the PDP because he wants to be the presidential candidate of the All Progressives Congress (APC) in 2023.
"My friend, Umahi wants to be president. There is no problem with that. You have a right to be president. Nobody can stop you. You are educated. You have been a governor for two terms, so you are qualified to say I want to be president of Nigeria.
"But, that does not mean, that because you want to blackmail your party, and tell lies to the people you are leaving the party because of the injustice meted against the South-East, that is not correct," Governor Wike said.
The Rivers governor noted that it was wrong for Governor Umahi to accuse the PDP of injustice, when he had unilaterally 'imposed' his younger brother as South-East Zonal Vice Chairman of the PDP.
He said, "In life, power is sweet, but conscience is important. It is most offensive and insulting for a man to lie against his party because of power."
"My reaction to Governor Umahi's defection is not that he has no right to defect, but to say he is defecting because of injustice meted to the South East, that is insulting to the South East," he said.
Speaking further, Wike urged the National Working Committee and the National Executive Committee of the PDP to take decisive steps to ensure the PDP does not die in Ebonyi State.
---
kindly donate to the work we do using our interim PAYPAL https://www.paypal.me/NewsWireNGR