Flight operations at the Murtala Mohammed Airport suspended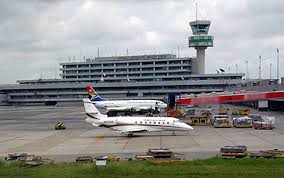 Estimated Reading Time: 1
Flight operations at the Murtala Mohammed Airport in Lagos have been suspended following the 24-hour curfew imposed in the state by Babajide Sanwo-Olu, the governor.
Airlines with scheduled flights are already notifying passengers of the development.
African World Airlines (AWA), in a tweet, advised passengers to either rebook their flights or request a refund.
"Due to the 24-hour curfew imposed in Lagos from 1600hrs today, we have canceled flights AW 222/AW223 on Tuesday, October 20, 2020, and AW 208 / AW 211 on Wednesday, October 21, 2020," it wrote.
"Passengers are urged not to proceed to the airport for these flights and contact us for rebooking/refund."
Henrietta Yakubu, the general manager for corporate affairs at the Federal Airports Authority of Nigeria (FAAN), told TheCable Newspaper that all airlines have to obey the governor's directive.
"The governor has imposed a 24 hours curfew. Any person or airline will have to respect the order from above," Yakubu said when contacted for comments.
Sanwo-Olu imposed the curfew, which took effect from 4pm on Tuesday after violence broke out in various parts of the state amid #EndSARS protests.
kindly donate to the work we do using our interim PAYPAL  https://www.paypal.me/NewsWireNGR