Vice President Osinbajo wants govt to adopt merit system for national value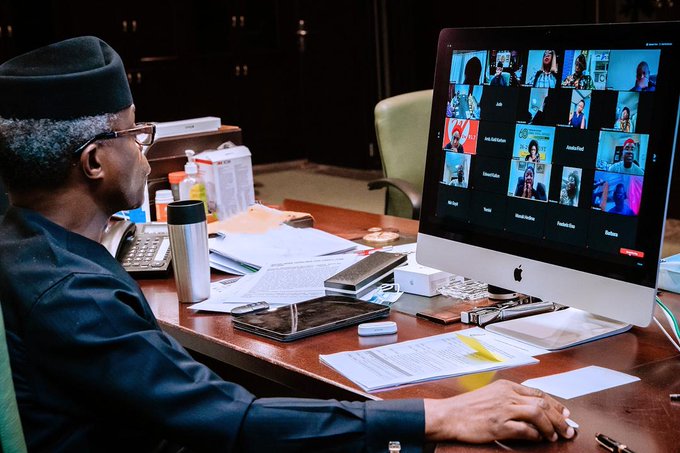 Estimated Reading Time: 2
Vice President, Yemi Osinbajo, says Nigeria's desire and pursuit of economic growth and sustainable development will be achieved through the adoption of merit as a national value.
The Vice President made the remarks in a keynote address delivered at the Nigeria Leadership Initiative, NLI, webinar series themed: "A National Conversation on Rebuilding our National Values System".
He said "Meritocracy is crucial in an economically viable value system because it rewards talent and enterprise, adding that it is talent and enterprise that would drive sustainable growth".
A statement issued by the Osinbajo' media aide Laolu Akande made available to NewsWireNGR explained that "Economic growth rests upon the substructure of values. The basis of the entire credit system as we know it, is trust. Indeed, the word credit is derived from the Latin word "credere" —to believe or to trust. For a credit facility to be extended to a person, trust is placed in the borrower and his or her willingness and ability to repay.
He said stakeholders must focus their attention on merit as a crucial factor for society's economic survival, social justice and in having an economically viable value system.
The Vice President noted that the nation's value system must provide "a causal connection with our economic development. And it must also be one that is capable of showing us or the individual, that happy society, a community of people that are prepared to live and work together, is possible on account of this value system."
Citing relevant portions of the Nigerian Constitution to explain the relevance of merit in a viable value system, the Vice President said: "in our context, justice includes the notions of fairness, equity, equality and it is significant that our Constitution is actually replete with references to these themes".
He noted that "institutions that must deliver these values, must themselves be deliberately invested in, both in terms of material infrastructure and the quality of personnel. Where the institutions for the resolution of conflicts and disputes are trusted and judicial outcomes are preponderantly fair and predictable, unity and stability are more likely. And this is very important especially with respect to judicial institutions."
On his part, former Head of State, Yakubu Gowon (Rtd), emphasized the need to re-engineer the National Youth Service Corps scheme and reinvigorate the studies of History in schools, to reclaim lost values in the society.
He said the nation's reward system should be linked to a renewed national value system, noting that Nigerians should be defined by established core values.
Senate President Ahmed Lawan, also pledged the support of the National Assembly in ensuring curriculum alignment to the value rebuilding processes and called for a re-engineering of family ethics to support the entire reconstruction process.
Other speakers at the event include former Nigeria High Commissioner to the United Kingdom, Dr. Christopher Kolade; Chairman of First Bank, Nigeria, Mrs. Ibukun Awosika, among other notable Nigerians.
kindly donate to the work we do using our interim PAYPAL  https://www.paypal.me/NewsWireNGR