Supreme Court has affirmed Yahaya Bello as Kogi State Governor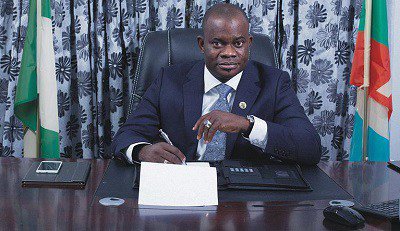 Estimated Reading Time: 1
The supreme court has affirmed Yahaya Bello as the duly elected governor of Kogi state
Delivering the judgment on Monday, Supreme court Justice Mary Uwani Abba-Aji, dismissed the appeal for lacking merit.
The Independent National Electoral Commission (INEC) had declared Yahaya Bello, candidate of the All Progressives Congress (APC), as the winner of the governorship election that held in November 2019.
However, Musa Wada, candidate of the People's Democratic Party (PDP) challenged Bello's victory in court.
In a split judgment of two-to-one to delivered on May 23, 2020, the tribunal affirmed Bello's election.
The court of appeal also dismissed Wada's appeal.
Consequently, Wada filed an appeal before the apex court.
At the apex court, Jibril Okutepa, Wada's counsel, argued that the election was invalid due to non-compliance with the provisions of the electoral act.
He also submitted that Bello was not elected by a majority of lawful votes cast.
He urged the court to declare his candidate as the winner of the election having scored the majority of lawful votes cast in the poll.
Okutepa prayed the court to direct INEC to withdraw the certificate of return issued to the second respondent (Bello) and issue a fresh certificate of return to the appellant.
In the alternative, the appellant urged the court to nullify the election and order INEC to conduct a supplementary poll in 729 polling units across seven local government areas in the state.
The supreme court, in its judgment, held that the appellant failed to prove their allegations against the respondents and that "they failed to show the court why it should distort the decisions of the lower courts".