NHRC calls for speedy trial of human traffic cases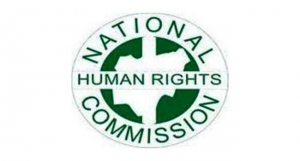 Estimated Reading Time: 1
As Nigeria joins the rest of the global community to commemorate the 2020 International Day Against Human Trafficking (IDAHT), the National Human Rights Commission (NHRC) calls for more sensitization and speedy trial of human trafficking cases so as to tackle the disturbing malaise trafficking in the country.
The Executive Secretary of the Commission, Tony Ojukwu Esq. stated this in Abuja which is the eve of the 2020 remembrance of the IDAHT observed annually on 30th of July.
While emphasizing the need for diligent prosecution to help curtail the delay tactics by defense counsel in courts as well as empowering rural households and communities through educating the girl child, ojukwu lamented that the nonchalant attitude of some members of the public towards the illicit trade have unfortunately combined to pose a serious challenge in bringing perpetrators of human trafficking to book.
He argued that human trafficking which is a violation of the fundamental human rights of victims has unfortunately, become the most lucrative for criminals, after drug trafficking and economic fraud in the Country.
"This year's theme which focuses on the first responders to human trafficking is therefore challenging all human rights defenders, particularly the law enforcement agencies, frontline Ministries, Departments and Agencies like, National Agency for the Prohibition of Trafficking in Persons (NAPTIP), Ministries of Foreign Affairs and Women Affairs, NHRC, the Police, the Judiciary, Nigerian Security and Civil Defense Corps (NSCDC) and Nigerians in Diaspora Commission etc. to double their efforts in tackling issues of human trafficking and other related criminalities to ensure that people's rights are not violated", the Executive Secretary said.