Adams Oshiomhole declares loyalty to Buhari's dissolution of APC NWC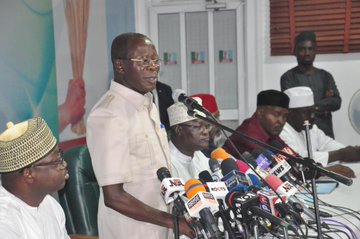 Estimated Reading Time: 1
The immediate past national chairman of the All Progressive Congress (APC), Adams Oshiomhole, has accepted the sacking of the party's National Working Committee (NWC).
Channels Television reported on Saturday, June 27 that Oshiomhole said he was all right with the decision of the President Muhammadu Buhari-led National Executive Council (NEC) to dissolve the NWC.
The former Edo state governor made his position on the sacking of the NWC known in a chat with pressmen on Saturday in Abuja.
He said, "Of course, we have now been dissolved and I have accepted that dissolution in good fate. I have always assured the President of my loyalty.
"I know it is easy for people to speak of loyalty when the going is good but loyalty is brought to the test when the going gets really tough."
There was joy among members of the ruling APC on Friday, June 26 after members of the sacked NWC dropped the idea of challenging their dismissal in court.
A National Executive Council meeting called by ousted self-proclaimed acting chairman, Victor Giadom and overseen by President Muhammadu Buhari, sacked the NWC on Thursday, June 25.