Nigerian govt considers total lockdown amidst spike in Covid-19 cases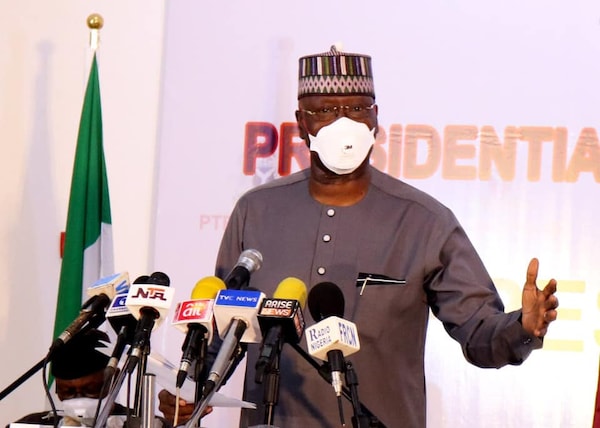 Estimated Reading Time: 1
Amid a spike in Covid-19 cases across the country, the federal government has hinted at another lockdown, saying it is inevitable as states continue to witness a surge in the number of daily infections.
Speaking during the briefing on Thursday, June 25, Boss Mustapha who is the chairman of the presidential task force on Covid-19, said the lockdown idea may not be popular, but the surge in coronavirus cases has made it a necessity.
Nigeria's confirmed Covid-19 cases soared to 22,614 on Thursday as the Nigeria Centre for Disease Control announced 594 new cases with total recoveries and deaths standing on 7,822 and 549 respectively.
Mustapha said Nigerians are "romancing" with the pandemic too much since the relaxation of lockdown allowing businesses to come back to life. According to him, efforts of the government towards the pandemic are being sabotaged by Nigerians and this has led to massive community transmission.
Mustapha warned against Nigerians' care-free attitude and called on everyone to take responsibility by following the guidelines contained in phase two of the lockdown. "I saw a real romance with Covid-19 today. People behaving as if the matter [virus] is over. It is a very serious issue and my appeal to Nigerians listening is that, let us take this thing [virus]," Mustapha warned.