To avoid what he called "self- destruction", – Buhari requests withdrawal of all court cases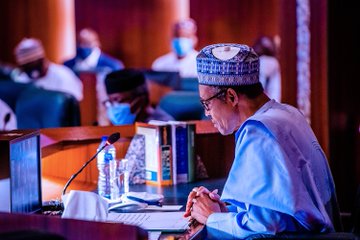 Estimated Reading Time: 1
To avoid what he called "self- destruction", President Muhammadu Buhari has advised members of the All Progressives Congress, APC to withdraw all pending litigations against one another, and settle for internal reconciliation.
AIT news reports that tThe President's request for an end to litigation which is attempting to tear the party apart, was made at the virtual emergency meeting of the National Executive Committee.
President Buhari said the electoral gains of the party could be reversed if conflicts overshadow the primary objective of service to the people.
He urged members to refocus on the larger picture and place more emphasis on uniting the party.
He expressed worry over the shifting loyalties within the APC, and inconsistency in leadership, which had opened the governing party to, what he descried as, mockery.
The President said in order to return to the "winning ways'', the APC must maintain cohesion
The emergency NEC meeting adopted all the recommendations by President Buhari, and appointed the Governor of Yobe State, Mai Buni, as Caretaker National Chairman. Buni was National secretary of the party prior to becoming governor.