B/Haram: Top commanders, logistic routes destroyed but attacks on soft targets persist – Army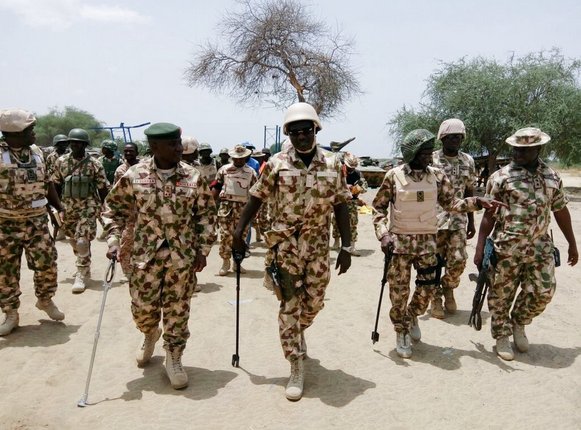 Estimated Reading Time: 2
The Nigerian Army on Thursday, June 4, 2020, announced that it has carried out operations in the northeast region of the country, destroying insurgent supply routes and killing top commanders.
The Army announced that its battle against Boko Haram/ISWAP in the region carried out in conjunction with other security agencies targeted the insurgents in land and air combat.
"In the North East, the Armed Forces of Nigeria and other security agencies have been on the offensive against the terrorists mainly through the land and air components of Operation LAFIYA DOLE.
"The significant feats achieved in this theatre include deletion of key BHT/ISWAP commanders, destruction of their logistics bases and cutting off their supply routes." the Army said.
According to the Army, as a result of the attacks, the camps of the insurgents are now in disarray forcing them to hit soft targets in depleted numbers.
"Equally, their camps have been in disarray as a result of the killing of some of their key commanders through airstrikes and artillery bombardments on their identified locations.
"This is additional to the aggressive mobile clearance operations and air interdictions.
"Thus, the terrorists now carry out attacks in depleted strength on soft targets which is being effectively countered by the gallant troops of Operation LAFIYA DOLE". the Army said.
The Boko Haram insurgency began in 2009, when the jihadist group started an armed rebellion against the Nigerian government. The conflict which still continues 11 years later takes place within the context of long-standing issues of religious violence between Nigeria's Muslim and Christian communities, and the insurgents' ultimate aim is to establish an Islamic state in the region.
Boko Haram's initial uprising failed, and its leader Mohammed Yusuf was killed by the Nigerian government. The movement consequently fractured into autonomous groups and started an insurgency through Abubakar Shekau who has pledged the allegiance of the faction of the group he commands to the Islamic State.
The insurgents sparked international outrage when they kidnapped 276 girls from a school in Chibok, in Borno State, on April 14, 2014.
Out of the 276 girls kidnapped, 112 still remain in Boko Haram captivity.