Manager of Demolished Prodest Hotel Among 27 New COVID-19 Cases In Rivers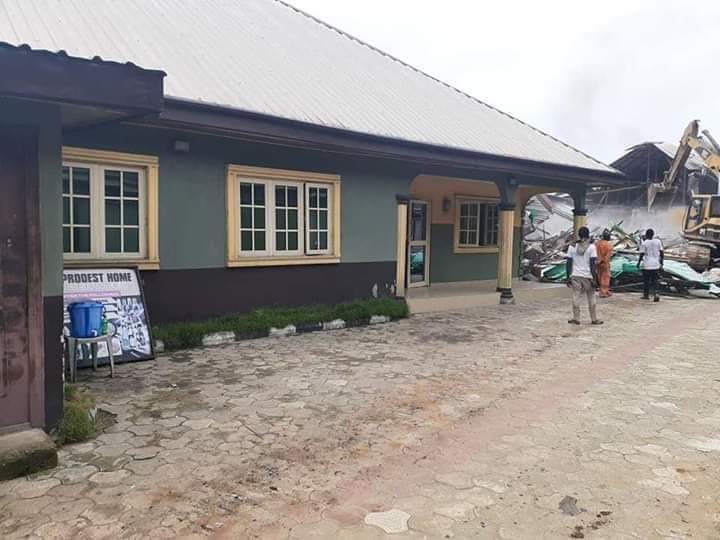 Estimated Reading Time: 1
The manager of Prodest Hotel, Eleme, one of the two hotels demolished recently in the state for allegedly violating the COVID-19 order, is reportedly among the new COVID-19 infections recorded in Rivers State.
"This latest development validates the state government's proactive approach towards the fight against COVID-19," Mr Nsirim said in a press statement
The state recorded 52 cases between May 13 and 20.
The number of confirmed cases in the state is 116 as of May 24, according to the data released by the Nigeria Centre for Disease Control.
Thirty COVID-19 patients have been treated and discharged, while there are 78 active cases in Rivers. Eight persons have so far died of COVID-19 in the state.
The Rivers State Governor, Nyesom Wike, has deployed measures, some of them hard and controversial, including the demolition of the hotels, to halt the spread of the novel coronavirus.
The state government has also arrested oil workers and pilots accused of entering the state "illegally" during the lockdown.
Mr Wike has been captured in video clips published on social media walking on the roads, angrily interrogating motorists who may have violated the lockdown order in the state.
The number of confirmed cases in Nigeria is 7,839.
---
To continue telling under-reported stories, we need your support for the work we do, donate to https://www.paystack.com/paynewswirengr
Also, kindly donate to the work we do using this interim PAYPAL ID https://www.paypal.me/NewsWireNGR