Just In: Buhari receives herbal drugs for COVID-19 from Madagascar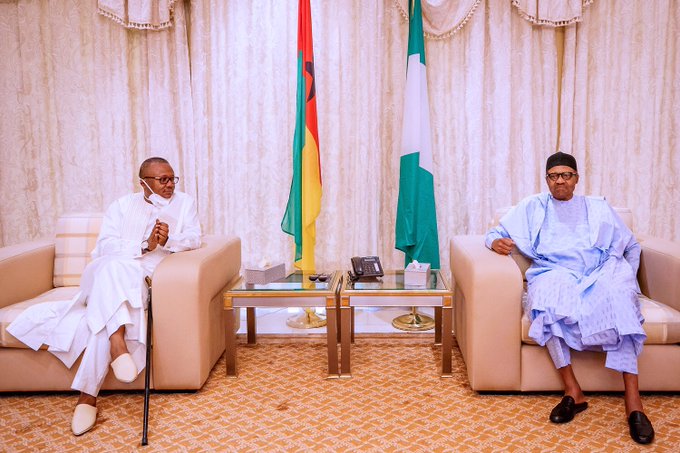 Estimated Reading Time: 1
President Muhammadu Buhari has received a native remedy for the COVID-19 from Madagascar.
The President of Guinea Bissau visited President Buhari today in Abuja, and brought along samples of the Madagascar herbal concoction.
Presidential aide, Tolu Ogunlesi wrote, "Keep in mind that the consignment donated by Madagascar to West African countries was sent to Guinea Bissau".
The Senior Special Assistant to the President on Media and Publicity, Garba Shehu, announced this on Saturday in a series of tweets.
He wrote, "President Muhammadu Buhari Saturday at the State House, Abuja, received the Madagascan native formulation against the #Covid-19 pandemic, and reiterated that he will listen to science before allowing traditional or any new medicines to be administered on Nigerians"
At an audience meeting with President Umaro Embalo of Guinea Bissau who brought along with him the samples of the traditional medicine as shared to African nations by Madagascar.
Garba wrote that Buhari said his position on all such herbal or traditional medicinal postulates had remained the same.
According to Mr Garba, samples of the native remedy were brought by the President of Guinea Bissau, Umaro Embalo.
"We have our institutions, systems and processes in the country. Any such formulations should be sent to them for verification. I will not put it to use without the endorsement of our institutions," said the Nigerian President according to mallam Shehu.
President Buhari reiterated that all necessary procedures will be put in place before allowing traditional or any new medicines to be administered on Nigerians.
On the main reason for his visit, President Embalo said having stabilized his country after the tussles that attended the general elections won by him, he had come to seek counsel from his "father," President Buhari on his plan for a "government of national unity"…
To continue telling under-reported stories, we need your support for the work we do, donate to https://paystack.com/paynewswirengr
Also, kindly donate to the work we do using this interim PAYPAL ID https://www.paypal.me/NewsWireNGR.