"With a reduction in revenue, we must reduce the cost of governance," – Governor Fayemi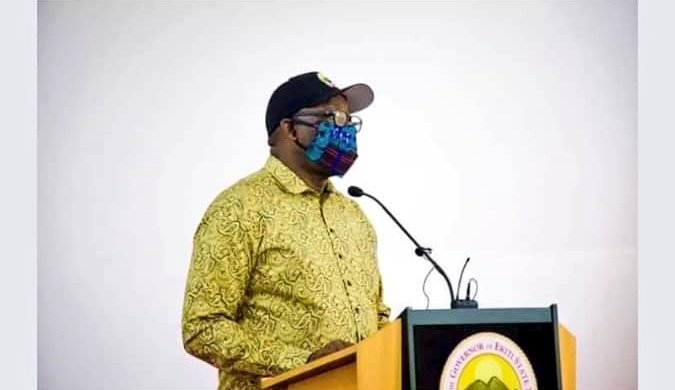 Estimated Reading Time: 2
The Chairman of the Nigeria Governorship Forum (NGF), Dr Kayode Fayemi, has said, for Nigeria to emerge stronger from the COVID-19 pandemic, it must take actions to quickly address its short-term challenges including cutting costs.
"With a reduction in revenue, we must reduce the cost of governance," Dr Fayemi, who is also the Governor of Ekiti State, said during an appearance on The Platform on Saturday airing on Channels Television LIVE.
"Apart from the passage of supplementary budgets by the Federal and state governments, we need to explore various recommendations on streamlining ministries, departments and agencies of government to reduce wastage.
"We must also be ready to eliminate or minimise non-core expenses. And also ensure that the wage bill at all levels of government is accompanied by accountability, productivity and effectiveness of our workforce."
The COVID-19 pandemic has disrupted life globally, infecting more than three million people and claiming more than 230,000 lives.
In Nigeria, there have been 2,170 confirmed cases with 68 deaths amid lockdowns and movement restrictions. Also, the price of oil, Nigeria's biggest source of income, has plummeted.
Although the impact of the pandemic has been devastating, Governor Fayemi, who appeared on The Platform via video conference from his office in Ekiti says it also offers Nigeria opportunities.
Also, Mr Chikwe Ihekweazu, the director-general of Nigeria Centre for Disease Control (NCDC), reiterated that Nigeria and the rest of the world would not return to normalcy until next year .
He was also speaking at the 24th edition of The Platform, hosted by Poju Oyemade's Covenant Nation, the NCDC boss said the short term pains are sacrifices Nigerians must make for a safer long term.
"We are faced with a difficult reality and we are not unique in this, every country is right now looking at the same challenge and how to get us back to some level of normalcy, but the reality is that we are going to live with COVID-19 for the next year at the very least," he said
"So we have to start thinking about how to live safely with COVID-19, and you know some of the changes we would have to make are actually good things to have forever.
To continue telling under-reported stories, we need your support for the work we do, donate to https://paystack.com/pay