Kaduna government deports over 30,000 Almajiri children out of the state to their states of origin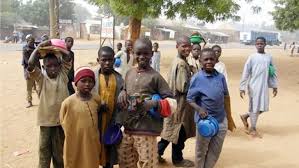 The Kaduna State government says it has so far deported over 30,000 Almajiri children out of the state to their states of origin.
The state Commissioner for Human Resources and Social Development, Hafsat Baba, told Channels Television that the action is to ensure that the vulnerable Almajiri children do not pose a threat to the battle against COVID-19 in the state.
She added that the outbreak of coronavirus disease in the Kaduna State and other parts of the country made the decision necessary.
Kaduna is the gateway and transportation hub that connects the northern part of the country to the south. On a daily basis, thousands of children roam the streets of the state capital begging for alms.
Many of the children who spoke with Channels Television in separate interviews revealed that they are not aware of the existence or inherent danger of the virus as they move from motor parks to markets and other public in search of food.
The quest for survival, especially during this lockdown period, makes the children leave their Qur'anic school roaming the streets, a situation that poses great health risk amid this pandemic.
The Kaduna State government, however, says it is ready to contain the coronavirus pandemic by adopting various measures.
This is evidenced by the lockdown of the entire state including closing all entry points and borders until further notice.