Presidency accuse opposition of paying Maiduguri residents to boo President Buhari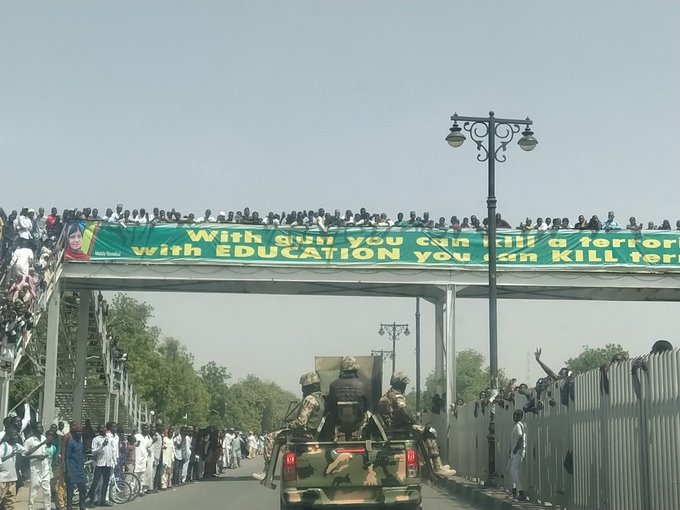 Estimated Reading Time: <1
The Presidency has accused opposition politicians of paying miscreants to boo the presidential motorcade in Maiduguri, the Borno State capital, on Wednesday.
Senior Special Assistant to the President on Media and Publicity, Garba Shehu, made the allegation in an interview with the Hausa Service of the BBC, monitored by The PUNCH in Abuja, on Thursday.
Residents of Maiduguri had on Wednesday, booed the motorcade of the President, Major General Muhammadu Buhari, (retd.), during his condolence visit to the state over the killing of over 30 travellers at Auno park.
Shehu said, "I was part of the delegation that entered Maiduguri right from the airport to the Palace of the Shehu of Borno. The people came out to say thank you and welcome us.
"But there was a group which came out shouting 'we don't want'."
He said, maybe "some politicians gathered some miscreants and paid them money to boo Buhari".
The presidential aide said whoever recorded the booing incident and shared it on social media didn't do justice to the people of Borno State whom he said had a reputation for welcoming guests.
Shehu also said it was not possible to satisfy everyone since no human being was god, especially in a city like Maiduguri which has a population of four to five million people.
He noted that the regime of the President has demonstrated the capacity to fight Boko Haram and he has promised to change strategy in dealing with what he described as a new problem.
Meanwhile, Nigeria's main opposition party, the Peoples Democratic Party, has told President Muhammadu Buhari that the booing he received from aggrieved residents of Maiduguri, Borno State, during his visit to the city on Wednesday was confirmation of the loss of confidence in his administration.
The party also stated that it was a clear message to Buhari that Nigerians considered him responsible for the rising spate of insecurity in the country.
In a statement by the party's spokesperson, Kola Ologbondiyan, PDP said, "The booing of President Buhari in Borno State is a clear message to him that Nigerians hold him responsible for the escalated insecurity in the country.
"We call on President Buhari to go beyond his sympathy visit to Borno state and take decisive steps to end the killings in that state and other parts of the country.
"Mr President should not limit his visit to Borno State but also visit other parts of the country, including Kaduna, Kano, Benue, Plateau, Yobe, Adamawa, Zamfara, Kogi, Niger, Taraba and other states to face the feelings of Nigerians as well as view the national devastation his poor handling of security and infrastructure had caused our nation.
"We charge Mr President to endeavour to go on subsequent visits by road in order to see and feel the agony Nigerians are being subjected to with the parlous state of our road infrastructure and security network.